Sanday Chongo Kabange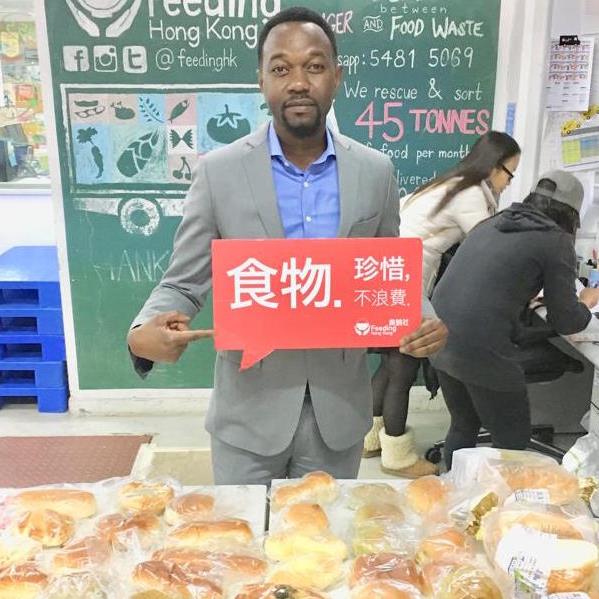 Can you tell us a bit about yourself and what you are doing currently?
My name is Sanday Chongo Kabange. I am an experienced multimedia journalist currently working full time as a compliance and business risk management professional for a data and business intelligence multinational company based out of Hong Kong. I am also a budding public policy enthusiast because I am fascinated about "all things public policy". I relocated to Hong Kong from Berlin, Germany to pursue my master's at The University of Hong Kong in August 2011. Before I officially graduated in November 2012, I was offered a full time role by my current employer in September 2012, that's how I ended up staying in Hong Kong. I ended up falling in love with my job in compliance, the city, the vibe and culture around Hong Kong.
What drives you to serve the community?
I have always been involved in volunteering and charity work since I was younger, and it is something that I have continued to develop and cultivate over the years. My drive for volunteering was reignited in mid-2018 towards the end of my public policy study when I saw a television call for volunteers from the Social Welfare Department's Volunteer Movement—I immediately registered then started looking for English-speaking opportunities as my Cantonese is still very raw. In the process if searching for English volunteer opportunities and reaching out to numerous organisations, I stumbled upon a very useful resource—the HandsOn Hong Kong website—and I had heard about HandsOn from two of my fellow students on the global public policy program.
I am a regular "Bread Runner" for Feeding Hong Kong and "Kindness Walker" for ImpactHK. I try not miss either of these activities weekly because there is so much food waste in Hong Kong which is being put to better use by Feeding Hong Kong and ImpactHK. Through the Bread Runs, I have met and volunteered with people of different persuasions, backgrounds, nationalities, interests but all with one common passion for volunteering and serving the community. Similarly, Kindness Walk for ImpactHK has accorded me a rare opportunity to meet new volunteers, widen my circle of friends and strengthened my network of professional connections.
In all this, the ultimate driver for volunteering is a feeling for a purpose, a passion to give back and a reward of being useful to society.
What do you believe is the impact of your volunteer work?
I reckon the biggest impact in any volunteer's work is seeing someone out there in need of help smiling back at you and engaging in a heart-to-heart conversation. I have meet different people during volunteering, young, old or differently abled. However, one common trait I have noticed is that when you smile and engage in dialogue with the people you come across, you create a bigger impact. Placing a smile or slight beam on someone lessens their burden, eases their stress, relieves their loneliness and makes them feel they are part of society regardless of the situation they are in. You cannot quantify human impact, kindness, love or care. There come naturally! Self-impact does not count, what counts is the collective impact that all the charities and volunteers put together to achieve one common goal of making the world a better and equal place for all.
What advice would you have for someone looking to begin their volunteer journey?
Don't let time limitations deter you from following your passion for volunteering. We all know and are aware of the high demands that come with our jobs, relationships, academic or other social engagements. However, these shouldn't stop us from sparing a minute of our busy schedules to volunteering. We should never let "busy" or "I will do it tomorrow" attitude undermine our efforts to embark on one of the most fulfilling journeys of our lives. Through volunteering, you meet new friends, release some work or personal stress and even maintain a healthy lifestyle especially if you join activities such as plogging, kindness walks, cleaning beaches, marshalling at a sports event or collecting surplus food from one store to the other. For corporations, business houses or those in C-suite roles, volunteering helps to raise your brand's profile, reputation and promotes good corporate culture. You could start with half hour weekend sessions or join after work events then build up from there as and when time permits.
Can you share an interesting story or touching moment you have had while volunteering with HandsOn?
It's not easy to really flesh out one single moment because there are numerous unique encounters I have come across during volunteering. In September 2018, I signed for a weekend volunteer event hosted by Sunshine Action and HandsOn to distribute food packs to low income households and the elderly in Tai Koo area on Hong Kong Island. We visited a couple of homes and ended up in two different houses. In one, there was a 94-years old man living by himself and in the other was an elderly woman in her late 80s with a back problem who's taken care of by her son, who equally quit his only job as a mini bus driver to look after his mother. Seeing such old people with no proper or even basic family support system was very disheartening especially in a city like Hong Kong and on Hong Kong Island. It was the first time to see old people living without close family or relatives to help them with their daily requirements. I clearly saw the old man lighting up and eager to share stories with us when we went to visit him. The conditions some of these old me people live in made me wonder why there is such a huge wealth gap in Hong Kong. I now realise the challenges that hide behind the high-rises in spread in this urban concrete jungle we fondly call "Home Kong"
Be the Change. Volunteer.