Alain Costeroste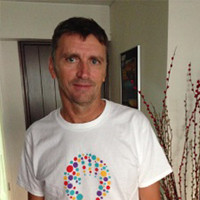 Can you introduce about yourself, and tell us what are you doing currently?
My name is Alain, Alain Costeroste. I am French and I have been living in Hong Kong and Singapore for the last 15 years. I am currently working at a French Insurance Group as a Project Manager in IT environment. Last year I took a 10 month break that allowed me to combine travels and volunteers activities.
How did you get in touch with HandsOn Hong Kong?
When I came back to Hong Kong few years back, I looked for volunteer activities, I contacted some associations directly but most of the time got no feedback. As I was interested in the refugees' situation, I was told by a friend that HandsOn was involved in such activities. I attended a meet & greet session before doing activities with refugees and volunteered on other activities in the meantime. After the meet & greet, I started contributing as a volunteer and after a while contributed as volunteer lead coordinator.
What drives you to provide volunteer service to the community?
With my wife, we have been sponsoring a kid for more than 10 years in Philippines. We write letters and try to visit her once a year. We like to do it but miss the fact that it is mainly a virtual relationship due to distance. I think it is great to support financially but it is even greater if you can give more than that, like giving your time and obviously meeting the people on a regular basis.
What is the impact of your volunteer work?
Regarding the refugees homework support program, I guess it makes the beneficiaries happy and makes their student life better as it is great to have some extra support. I guess it contributes to ease their integration in their new life in Hong Kong. On my personal side, I definitely feel fulfilled as I have the feeling to help, to give something to others, to share. Also it brings me more awareness about refugees' situation in Hong Kong and I try to support more when it is possible.
Why would you recommend others to join HandsOn Hong Kong?
The main reason will be the flexibility. The concept of choosing activities and dates based on our availability without feeling guilty or not committing every week for a long period. It is great for people who might be engaged in several activities or might be travelling. The second one is that through Hands on you can be exposed to different types of activities thus you can meet various people with different interest and background.
Any interesting story or touching experience with HandsOn Hong Kong?
When I started the homework support for refugees, there were 2 kids from French speaking African countries who were bearly able to speak English. After few dedicated sessions of French/English they become more comfortable then, I guess, quickly catch up with their classmates and English was no longer a problem. Now, when we do the maths during the homework session, we do not speak any more in French as they have fully adapted to their new environment and use English as fluently as other kids.
Any other suggestions you want to share with our HandsOn Hong Kong volunteers or new subscribers?
Try different activities!!! Many choices are proposed. It was great to do soap recycling where we had a lot of talking with the students coming there and sharing their music, It was very friendly to work with the crew and other volunteers at cutting the vegetables and filling the tray for the Food Angel activities. It was fun to play bingo with the 80 year old and over ladies as they all look so happy doing such activities!
Be the Change. Volunteer.