Alice Chiu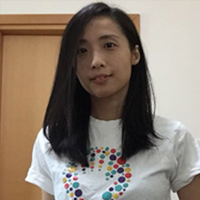 Can you introduce yourself, and tell us what are you doing currently?
I'm Alice. It is my pleasure to be one of the volunteer leaders of the "Community Kitchen" program.
How did you get in touch with HandsOn Hong Kong?
A friend recommended HandsOn Hong Kong. I found this is a very good platform to link up local charities and volunteers. HandsOn Hong Kong provides great variety of events and a user-friendly on-line program calendar. Let the volunteering begin!
What drives you to provide volunteer service to the community?
I want to get close to the community and to know more about our society. Volunteering is so reciprocal. No matter whether we are volunteers or service recipients, we all benefit from personal development through the process of give and take. It also demonstrates the importance of "influencing life with life" in volunteering.
What is the impact of your volunteer work?
I participated in different programs: "Help at the Community Kitchen", "Help Ethnic Minority Children with Schoolwork", "Help out at the Make It Better Summer Art workshop with Teenagers", "Enjoy an Afternoon Tea with Students with Physical Disabilities" and "Spend your weekend with Mentally Disabled Students". It helps me understand more about the needs and thoughts of the new generation, people with disabilities and unprivileged people, but also the difficulties what they are facing.
If you would need to recommend others to join HandsOn Hong Kong, what are the reasons?
I knew they spent a great effort in program design. They pay site visit and have a trial of the new program in order to ensure all the different activities can be held under a safety and appropriate environment.
Any interesting stories or touching experiences with HandsOn Hong Kong?
I met the teenagers with physical disabilities at HK Red Cross John F. Kennedy Centre. One student told us he will take the public examination (HKDSE) in this year. Even though he is allowed to take the examination, he needs to take double the normal time to answer the questions by using his elbow to control the special keyboard with trackball mouse. I was impressed by his courage and effort. There are many things we always take it for granted. For someone, it may not be so easy. We should treasure what we have today.
Any other suggestions you want to share with our HandsOn Hong Kong volunteers or new subscribers?
You can make a difference and feed your passions through volunteering. The little bit of time that you took to do something meant making a difference in the lives of others. Come and join us!
Be the Change. Volunteer.