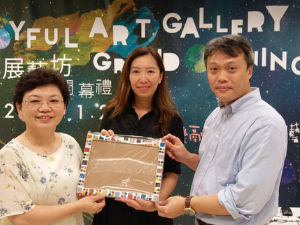 1. As a board member, can you tell us what drew you to support HandsOn in such a committed way?

It has always been my passion through volunteering and supporting NGOs that I can contribute back to the community, and to make a difference in the place we live. It is especially rewarding when I can use my coaching and financial skills to contribute. As I am interested in supporting different causes (eg. Hunger, child advocacy, mental health, literary and education and environmentalism etc), the diversities in volunteering activities provided by HandsOn match with what I wanted. It was also the enthusiasm, professionalism, and passion of the HandsOn team that attracted me to work and partner with them. As a board member, I believe I will be able to make more impact to the society through HandsOn and be able to grow and learn with the team together.
2. Can you share your thoughts on the role of volunteering / community service in these challenging times for Hong Kong?

I believe during challenging times like right now in Hong Kong, volunteering / community service creates a great impact to the community. We do not just rely on the government or NGOs to provide support to the community but by everyone contributing a bit, together we create a big difference. It allows positive changes to happen at a faster pace and on a bigger scale. In addition, through volunteering / community service, both parties (the giving and receiving parties) can attain mental well being and happiness during these tough times.
3. What advice would you have for someone looking to try volunteering--whether on a board or otherwise--especially for someone who would like to use their skills for good?

Just do it! Just go and try out different voluntary activities that you are interested in and enjoy the experience. HandsOn is a very good platform for someone who has many interests or those who haven't identified what causes they would like to commit to yet. It allows flexibility and just sign up when you are free. Only by doing it and trying it out will you find out what you enjoy most, and what gives you the most satisfaction. If you want to do long term volunteer service, to have deeper understanding and commitment for servicing a NGO, you can also sign up for skill-based volunteer services where you can contribute by using your skills (eg. Finance, IT, marketing, legal, administrative etc) on a regular basis.