Anne Wong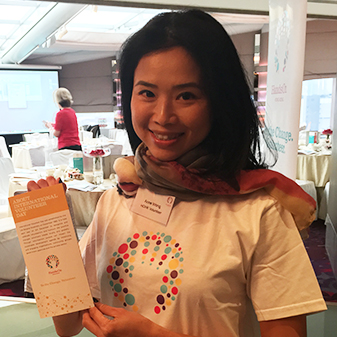 Can you tell us a bit about yourself and what are you doing currently?
I am a seasoned banker specializing in money management for high networth individuals, feeling plateaued and desperate for a change as to explore life differently and pursue happiness throughout.
How did you get in touch with HandsOn Hong Kong?
Read an article on volunteering this June covering a few lesser-known local NGOs including HOHK, allured by its mission and unique "business" model, subsequently attended an orientation workshop to learn more about HOHK.
What role do you have and how are you currently helping HandsOn Hong Kong?
I have been an active HOHK volunteer since this summer, participating in a wide spectrum of hands-on activities covering children and youth, disabled, mentally-ill, women, environment, as well as fund-raising. Most recently, I centre on a pro-bono research project for HOHK, with an objective to (raise fund as to) scale up the scope of volunteering services provided to HK community.
What is the added value of this collaboration?
I find increased fulfillment in life through leveling up my bonding to the unprivileged citizen segments in Hong Kong.
What drives you to donate your time and skill to the community?
I treasure my gifted life experience and skill-sets that empower me to be who and where I am now. This equips me to contribute to our society in different aspects (on top of paying tax!). I find I have greater self-satisfaction and sense of achievements in return which are all unexpected intrinsic gifts. Overall, this is a win-win situation.
Which volunteer programs have you taken part in through HandsOn Hong Kong?
I treasure all my diverse volunteering opportunities tailored for different segments in different suburbs through HOHK. To name a few, I performed as a moderator in "human library" event host for ex-mentally ill people in Shek Kip Mei, assisted in outing with physically disabled students in Olympic City, coached under-served primary school students to improve their English skills under the "i-Future Weekend School" scheme, participated as a traffic controller during the "Very DVRC" event tailored to promote creative use of public space in CBD on a Sunday, planted trees by hiking 15km under 30+ degree celsius under an ecological restoration project in Lantau, assisted in a HOHK self-funded latte art learning workshop held for intellectual disabled teenagers in Choi Hung, and lastly being an ambassador for HOHK's most recent fund-raising campaign "Drink for good" in October.
Any interesting story or touching moment you had in your volunteer work experience with HandsOn Hong Kong?
Among my HOHK volunteering experiences, I was especially touched by the "get-to-know-HongKong" outing event I joined this August as to accompany physically disabled students to explore the HK community outside their dormitory. While the original plan was to go to the outlying island Cheung Chau by ferry, it became unachievable on the event day due to bad weather conditions specifically amber rain signal was hoisted. The team had to work out an alternative plan on spot, i.e. to identify a new desirable destination that was reachable for the group of 6 physically disabled students from the Central pier. An indoor mall Olympic City was finally chosen as it was the best available option given its proximity and convenience to reach by MTR and stay during a rainy day, though it was a mild disappointment for the students. We then escorted them from Central Pier to HK MTR station platform which took us nearly an hour amid the lack of disabled-friendly facilities for such an access. Finally we reached the new destination, i.e. two hours after our first meeting time, and kickstarted the activities including lunch and hovering around the mall. My hands-on takeaway for the day event is the frustration on insufficient public support and attention provided to the disabled groups, which is critical for the government and our society to pay attention to. Before this event, I would not have imagined some simple "things-to-do" in my life like going to outlying islands, reaching a MTR station by just a 5-minute walk, ordering lunch meals from food court stalls, buying the best-selling books from bookstores, are inaccessible to these teenagers. I am proud of each one of them given their courage, patience and persistence to tackle problems in their lives day by day. They are humble to learn, reach, and live; and are more than qualified to be our role models.
Why would you recommend others to join HandsOn Hong Kong?
This is a precious opportunity to broaden one's life experience and exposure, to grow and improve wellness.
Any other suggestions you want to share with our HandsOn Hong Kong volunteers, supporters, and other readers?
Visit HOHK website and check its volunteering calendar as often as you can, and stay tuned for all opportunities. When you think you are helping others, you are actually helping your own self.
Be the Change. Volunteer.