Carmen Lai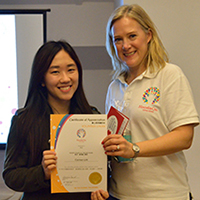 Can you introduce about yourself, and tell us what are you doing currently?
My name is Carmen. I am currently working in the banking industry. I graduated from university about 1 year ago and I was majoring in Psychology.
How did you get in touch with HandsOn Hong Kong?
My friend introduced this awesome organization to me after the joyful volunteering experience.
What drives you to provide volunteer service to the community?
As a Psychology graduate, I have great interest in understanding about human mind and behaviour. Volunteering is one of the best ways to meet people from all walks of life and learn more about our community.
What is the impact of your volunteer work?
I feel really honoured to be one of the volunteer leaders, who can help to raise people's awareness on the needs of mentally disabled students. Every playtime session is valuable to the kids as they seldom have the chance to get in touch with people out of the dormitory. This can definitely help to boost their confidence in social interaction. I am also happy to see that some of the volunteers are eager to join regularly and gain better understanding of the students' life.
Why would you recommend others to join HandsOn Hong Kong?
HOHK provides a wide range of exciting opportunities. The beneficiaries include elderly, special kids, refugees, ethnic minorities etc. They even have connections with organizations that promote public awareness on environmental issues! Volunteers can enjoy the flexibility of the online platform and choose the programmes that they are interested in.
Any interesting story or touching experience with HandsOn Hong Kong?
When I first met the mentally disabled students in the dormitory, some of them were quite shy and timid. However, after a few visits, the kids could recall my name and they would always welcome me with smiles and hugs. It is a very heart-warming experience as we have gradually developed our friendship with mutual trust.
Any other suggestions you want to share with our HandsOn Hong Kong volunteers or new subscribers?
Don't hesitate to join. It's more fun and rewarding than you can imagine.
Be the Change. Volunteer.