HandsOn Hong Kong partners with all types of companies to collectively serve the community. Over the years, we're proud to have partnered with more than 200 companies and their passionate volunteers. Together we have built a range of meaningful service programs for their employees, clients and our frontline charity partners. Here are a few examples of what we do together.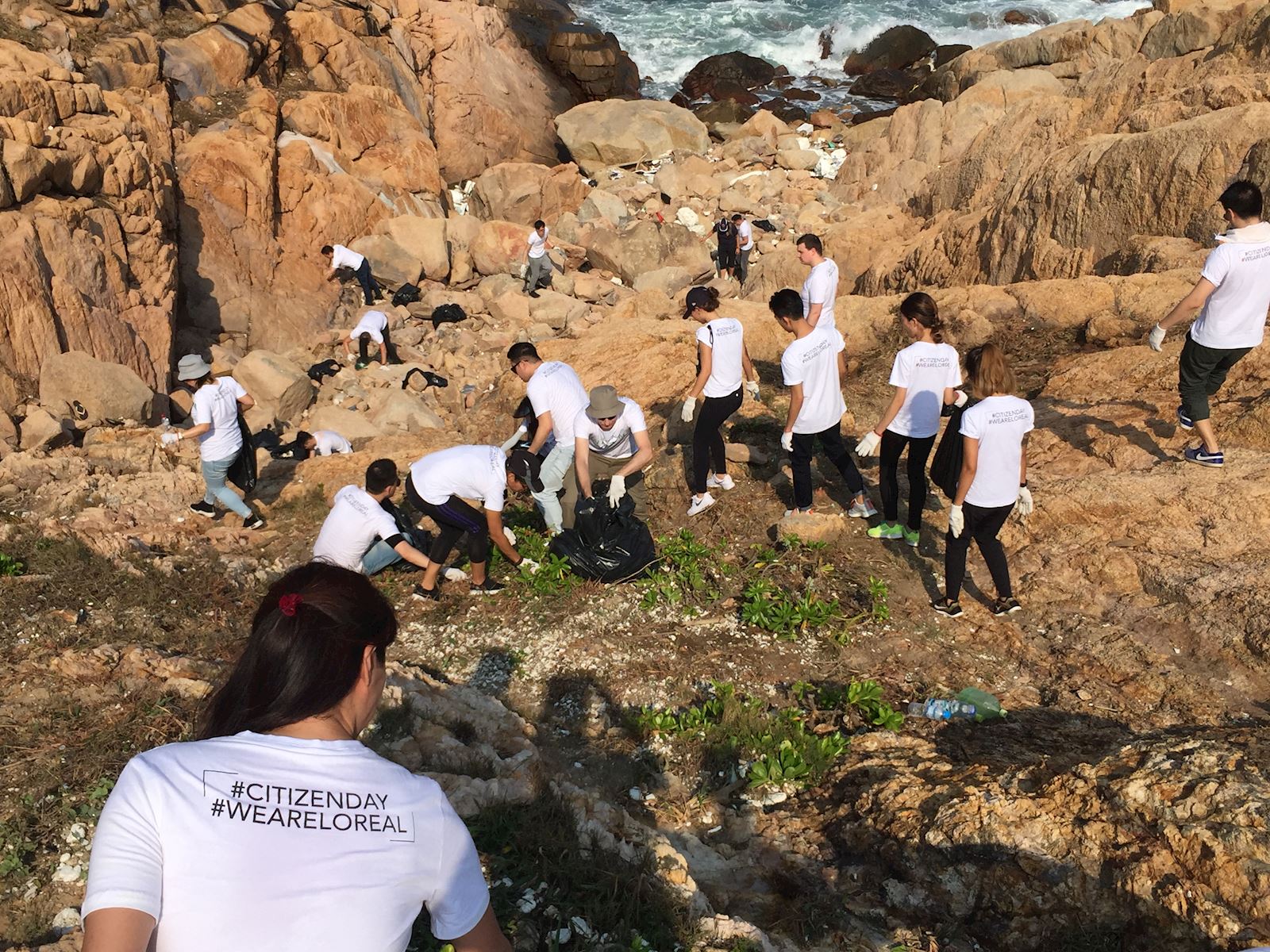 L'Oréal Citizen Day 2018
On September 27th the HandsOn team kicked off the first of 18 service programs in celebration of L'Oréal Citizen Day! A volunteer team of 56 L'Oréal office and frontline staff dedicated their afternoon to clearing a massive 325.95kg of trash and debris from Po Toi Island—a considerable effort after the devastation left by Typhoon Mangkhut. By the end of October close to 500 L'Oréal volunteers had served at activities across the city. Programs ranged from supporting students with disabilities on outings and recycling soap for disadvantaged communities, to serving food in community kitchens—and everything in-between!
Bloomberg – Making Eco Gifts for Elderly
68 volunteers from Bloomberg spent a lovely evening helping make eco incense as gifts to elderly living in Kwu Tung, Sheung Shui, where most elderly live alone. These handmade incense are made with all natural ingredients that are safe to use in family homes, and aren't toxic like normal mosquito incense made with more harmful substances. Thank you to the dedicated volunteers!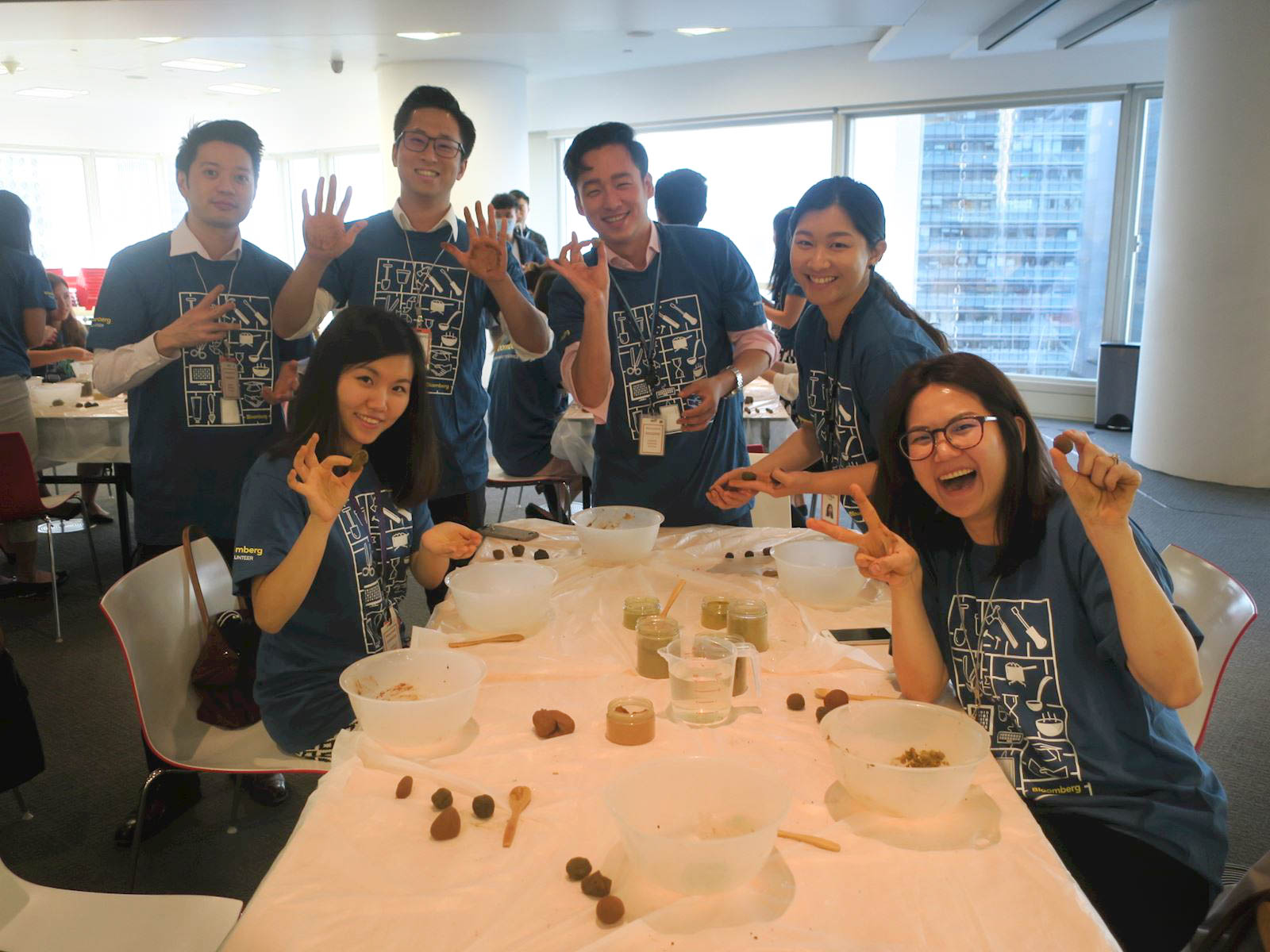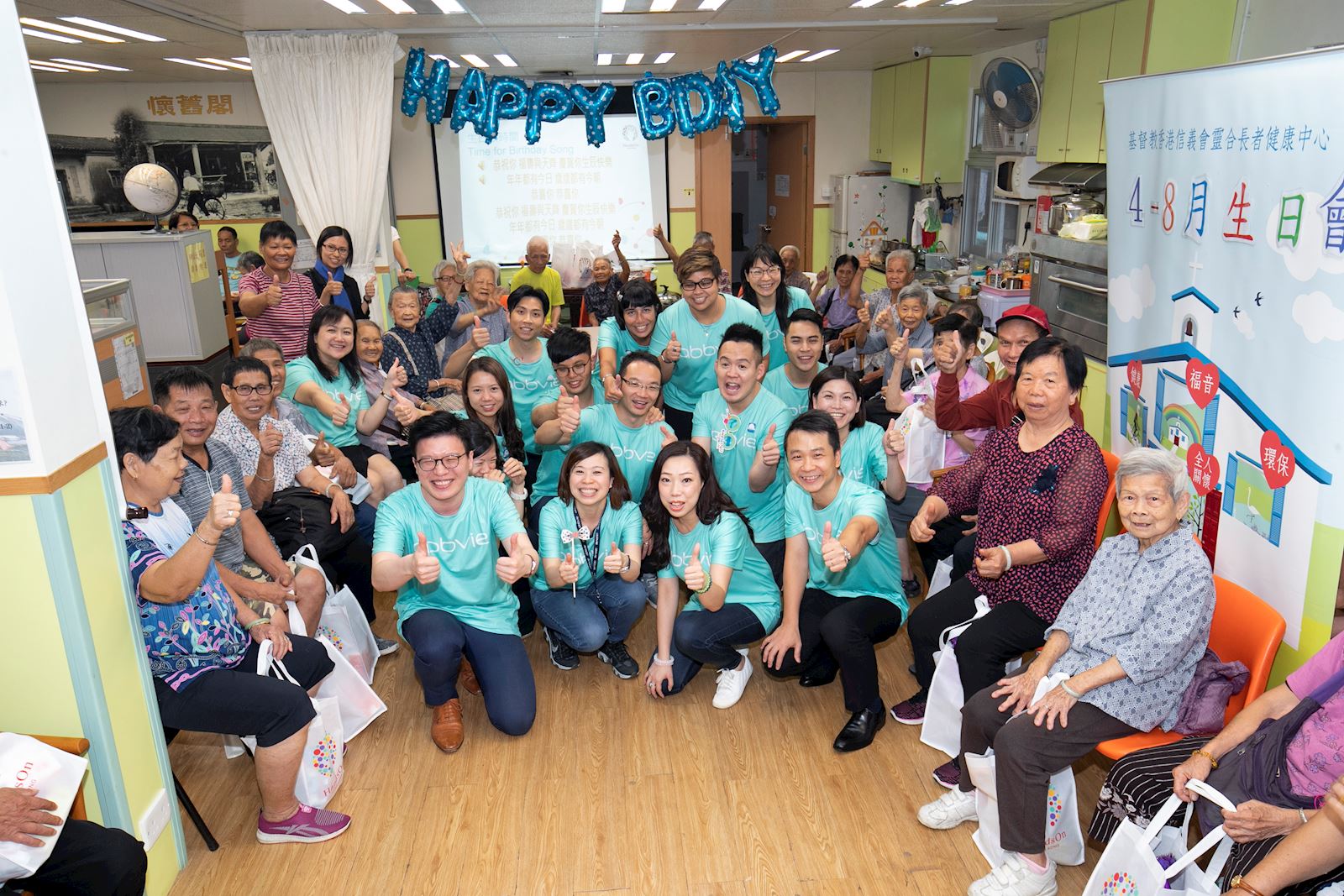 AbbVie – Dragon Boat Festival and Birthday Party with Elderly
Holidays can be a lonely time for the isolated elderly. In June, 17 dedicated volunteers from Abbvie visited an elderly center in Sheung Shui to celebrate Dragon Boat Festival and their birthdays with them as part of their Week of Possibilities campaign. They enjoyed a happy afternoon with lunch and games with the elderly, and brought bright smiles to all of their faces. Thank you for giving back to the community!
China Everbright – Mural Painting with Students from an Under-resourced School
Cross-boundary students living in Mainland China often have less exposure to the different life and career paths in Hong Kong. Volunteers from China Everbright shared a wonderful afternoon with students at an under-resourced school in May, and painted bright and colorful murals with the students. This not only helped brighten the outlook of the school, but also allowed the students to learn more about Hong Kong!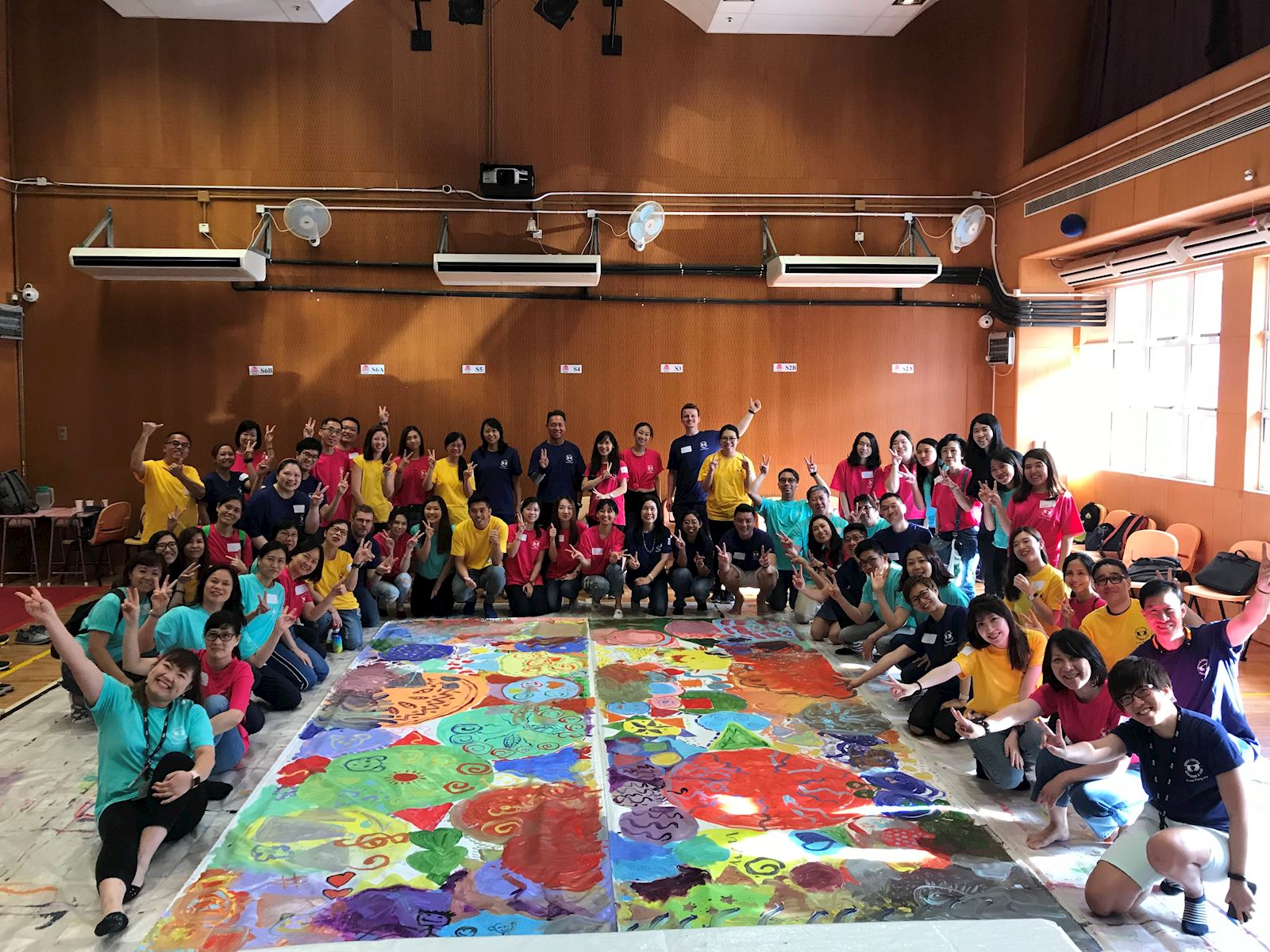 Aon – Annual Party Community Day
This May, Aon Hong Kong decided to host an Annual Party with a difference for their staff—they teamed up with HandsOn and used the opportunity to get most of the office out serving the community! Over 400 staff spread across HK to join 12 different activities in support of local NGOs—they visited our city's isolated elderly, took children with disabilities on a special outing, recycled soap for disaster-struck communities, cleaned debris off an unmaintained beach and more. Through the different projects, they helped over 240 beneficiaries and contributed to environmental conservation as well!
American Express – Tree Care Program
48 AMEX volunteers celebrated Earth Day together through an ecological restoration program, working on tree maintenance on Lantau Island. The volunteers completed different tasks, including fertilising, mulching and watering trees, and collecting data to monitor the trees' progress and impact along two slopes. This meaningful event helped the volunteers gain an understanding of reforestation in Hong Kong and a greater awareness of our natural environment, with an emphasis on the importance of wildlife protection.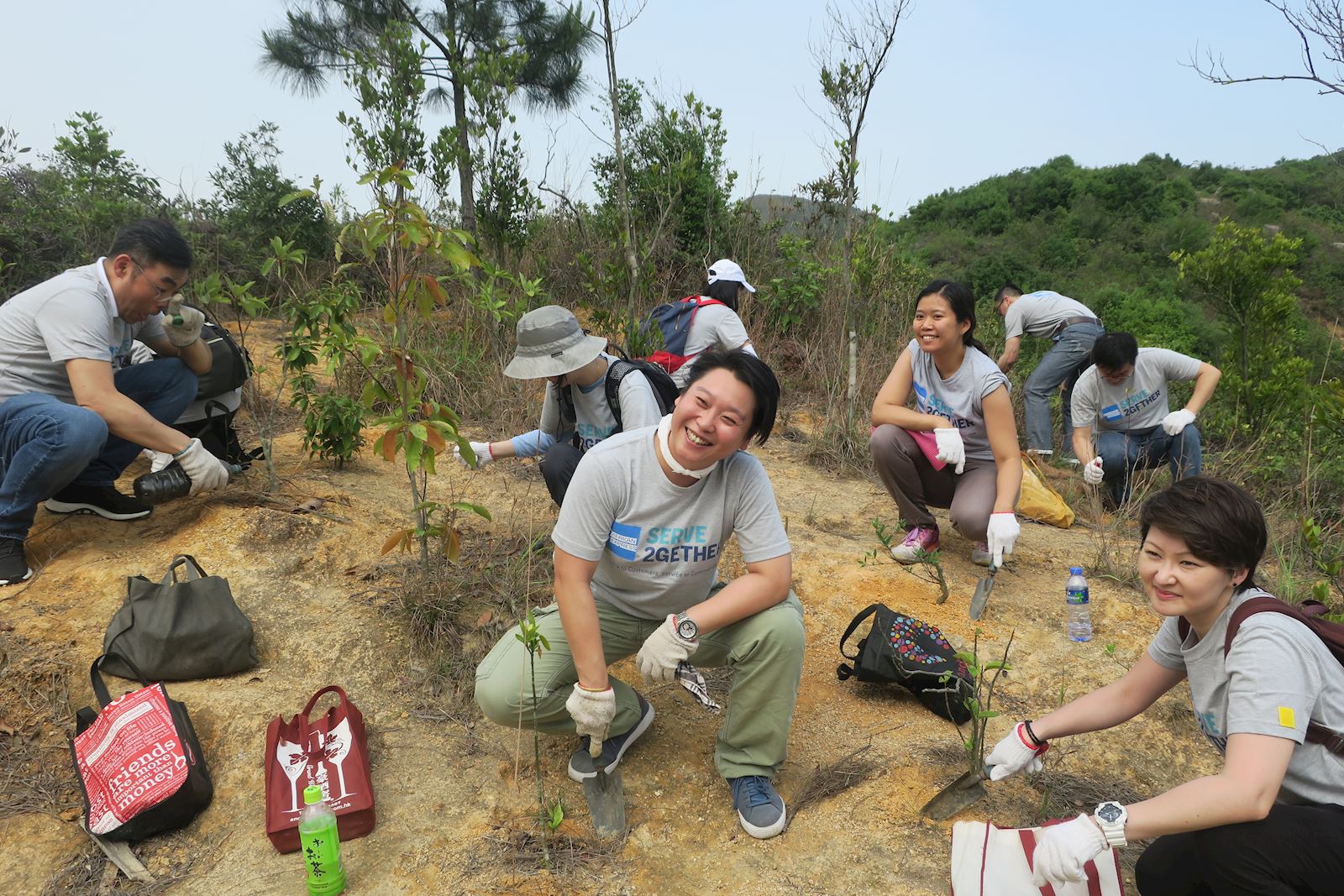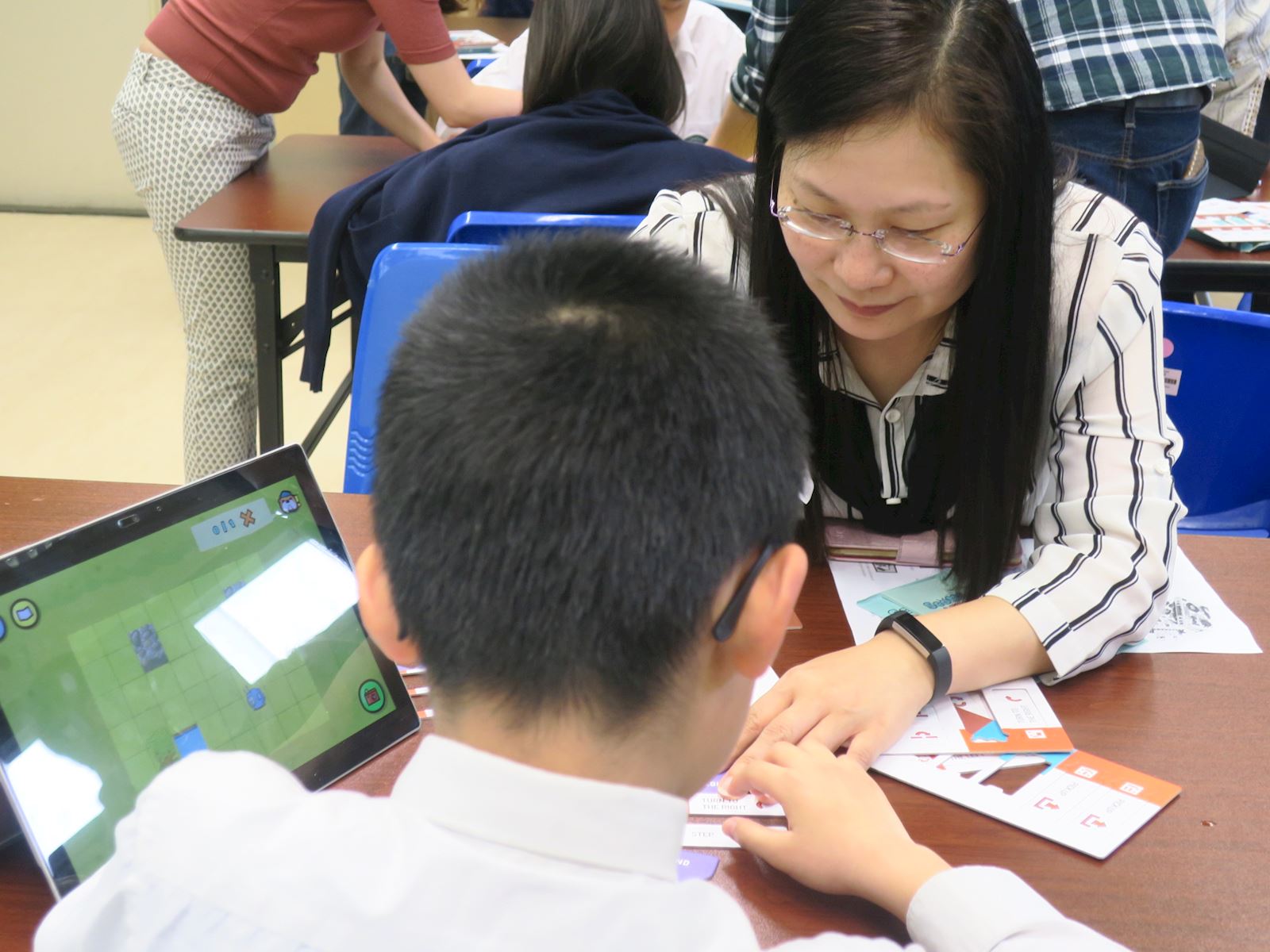 MetLife – Computer Science Unplugged for Students with Intellectual Disabilities
STEM Education is a specified curriculum for students to learn four major disciplines - science, technology, engineering, and mathematics. 15 dedvoted MetLife volunteers visited Saviour Lutheran School and joined a class of students with mild intellectual disabilities to enjoy a tech fun afternoon that introduced them to STEM concepts. The experienced STEM education facilitators guided students to learn basic programming concepts such as loops, conditionals, variables or functions with command tiles through a game called Scottie Go. Although some students experienced some challenges and frustration as they played, the MetLife volunteers showed great kindness by patiently guiding the students to set goals and write commands in order to set Scottie in motion.
Bloomberg – Making Gifts for Elderly to Celebrate Chinese New Year
81 devoted volunteers from Bloomberg helped to make charms and pack gift bags for 100 elderly citizens who live in an under-resourced district of Hong Kong. Fish charms symbolise abundance, luck and good fortune in Chinese culture, which make it a perfect Chinese New Year gift. The volunteers showed compassion and warmth for the elderly recipients by giving their time and dedication to prepare individual gift packs, each one including a hot water bottle, noodles, rice, cooking oil along with sweet lavender scented fish charm. This meaningful event helped to remind the elderly – many of whom live alone and without family around to celebrate with – that they are remembered and supported at this special time of year.