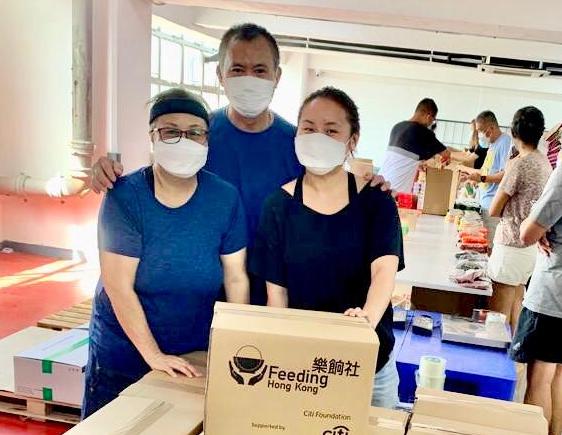 Elaine, how did your volunteer journey with HandsOn Hong Kong begin?
I wanted to do some volunteering work in my spare time and had heard a lot of good things about HandsOn Hong Kong. They run a lot of interesting and very accessible programmes, and so my journey began in 2019, when I joined the Mobile Literacy Programme with the Elderly in Choi Hung. The elderly people were very happy to learn how to connect with their grandchildren through the use of mobile apps, and locating restaurants for family gatherings. Their satisfyings smile after the session just made my day.
We've been inspired to see your commitment to volunteering throughout the COVID-crisis. Tell us about some of the programs you've been part of.
First and foremost, I would like to thank HandsOn and its partner organisations for their relentless work to provide support and create programmes that have helped a lot of people in need throughout the COVID-crisis. I am just a "pair of helping hands", but behind everything there are a lot of very well-planned campaigns.
I've been involved in creating greeting videos for isolated elderly people, and also making inspiration jars for children with special education needs. The jar was decorated with 31 motivational messages in the hope of providing emotional support to them and their families during this taxing time. Serving at the Food Angel food station, packing care relief packages with Feeding Hong Kong and delivering them to households in need with Hong Kong Christian Service Center Un Chau Neighbourhood Elderly Center have also been part of my volunteering endeavours during Covid.
Apart from that, I have helped with dance classes at the Love 21 Foundation, tutoring at the Hong Kong Society for the Deaf and Christian Action Ethnic Minoirty Center. I have also helped at Soap Recycling to recycle soap bars so everyone can keep their hands clean - which is one of the most important ways to stay safe from Covid. Last but not the least, I volunteered at the Hong Kong Red Cross J.F Kennedy Center where they held meaningful Play Group sessions for Students with Intellectual Disabilities.
You mentioned before that volunteering has helped to support your own well-being this past year. Can you tell us how you think community service has had an impact on you?
I think we've all felt the impact of COVID in our lives. From competing for masks and sanitisers, to being isolated by social distancing. As much as we can feel unhappy about all the negatives in life, we can also take the time to reflect on how privileged we are. You start to realise that there are many people less fortunate than yourself. Once you have that mindset, it's a natural step to look for opportunities to help others, so that we can come back out stronger as a community. It's a collective responsibility to stay safe together.
Also, while gyms are closed and dinners with friends are not possible, why not try volunteering together? It's also a way to bond with family and friends, and it's even safer than having a meal together! I feel that it's best to channel our energy to do something more meaningful and create our own reality, rather than letting something like COVID define it for us.
Community service certainly brings me new perspectives, COVID or not. Most important of all are the positive vibes and good feelings after each session, as you feel more connected to your community. Even during the worst of times, we can still make each other smile with any act of kindness.
Can you share any experiences you had volunteering last year that were particularly memorable or moving?
Working at the Hong Kong Society for the Deaf has definitely been one of the truly remarkable experiences.
It looks like ordinary tutoring volunteering work for primary/high school children with impaired hearing, but there's a lot more to it. You get to understand the difficulties they face day in and day out, and how things are especially more difficult with the added challenges of Covid. People with impaired hearing are in dire need of masks with transparent mouthpieces, because they need to be able to read lips as a mode of communication. It makes it harder for them to read the lips of people on the street as everyone's faces are covered in masks, which makes Covid life more isolated than ever. School suspensions due to Covid and online classes have affected many. It's difficult enough for us to do online meetings and classes without the human touch, but imagine that if you cannot hear, it makes it even harder to attend online classes. It's completely another world, another perspective into understanding what the Covid Crisis means to different parts of our communities, especially the already troubled ones.
Be the Change. Volunteer.