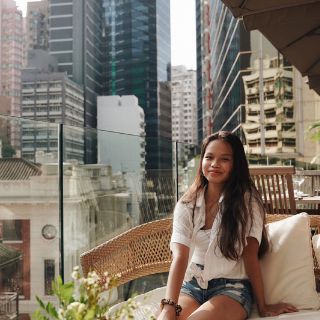 1) How did you come across HandsOn Hong Kong and begin supporting as an intern?

I heard about HandsOn through my university-- Hong Kong Baptist University, where I major in Communications, specifically the Advertising concentration, where an internship was required to fulfil my credits for school. I joined alongside a group of other Baptist University students and we were all involved in HandsOn's online social media campaign from January to April 2021. After the programme ended, I was offered a summer internship position to continue my role as the social media manager and now fast forward a year later, I'm still working at HandsOn!
2) How do you find that being part of the HandsOn team and telling their volunteers' stories has impacted you?
I have never met the HandsOn team in real life due to the pandemic which is incredibly unfortunate, but I found that even with everything done online, I received a lot of encouragement and support from the HandsOn team. I felt really inspired by how many volunteers across all ages, background and occupation have helped and are continuously helping out the local community. Knowing that my work empowers others to volunteer and that so many people are willing to volunteer makes me feel proud to be part of the community.
3) What words of advice would you have for young people in Hong Kong looking to gain work experience with a non-profit?
I think just being open-minded and being accepting of whatever that is handed to you, whether it be a task or working with a group or a situation (like me working remotely entirely). I definitely think flexibility is a huge one, especially working in social media— an environment that is so predictable. But working specifically in a non-profit made me realize I quite like working towards a goal that is not so money-oriented and the people I am working with are truly doing it out of passion rather than profit. So for anyone who is considering to gain some experience by working at a non-profit, I would say do it, because you really get to meet and see some amazing people in their element.
Be the Change. Volunteer.