Matthew Yeung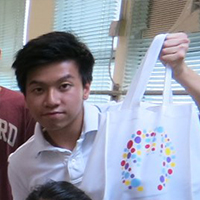 Who are you? And what are you doing in your life?
Currently I am studying in Upper Six at Concord College in the United Kingdom.
How did you get in touch with HandsOn Hong Kong?
As I have to gain some experience in helping the needy, my friend introduced HandsOn to me.
Why are you volunteering?
After helping the needy, I can have a greater sense of satisfaction. And I can learn how to take care of different types of people and enhance my interpersonal skills and widen my social circle.
What is the impact of your volunteer work?
I can help more needy people such as the elderlies as they are living alone in their apartment. Volunteers are assigned to visit them and talk to them in person, then they will share ideas and feelings with the volunteers.
For which reasons would you recommend others to participate to a HandsOn Hong Kong activity?
Last time I went to a kindergarten full of children that have learning difficulties, but actually they are very enthusiastic in participating the activities and they are willing to learn new stuff and skills.
Be the Change. Volunteer.