Naomi Young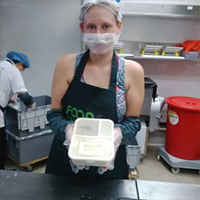 Can you introduce about yourself, and tell us what are you doing currently?
My name is Naomi and I am originally from the UK and I moved to Hong Kong in 2013. I currently work in theatre, putting on and developing theatre shows in English. I have worked with Hong Kong students and local theatre groups.
How did you get in touch with HandsOn Hong Kong?
My friend Caroline told me about HOHK, and a quick search of the website showed me I could volunteer very easily.
What drives you to provide volunteer service to the community?
It's something I always wanted to do back in the UK but never had the time. Here in HK I do so I lead two sessions a week, working in the kitchens of Food Angel and St James Settlement. These sessions have opened my eyes to the need in HK, which I didn't know about before I came to live here. Also it's a great way to meet new people.
What is the impact of your volunteer work?
As I don't meet the end client I'm not 100% sure but I hope that it brings a smile to people's and families' faces. I do know that what I do means that people with very little money get a good, fresh, tasty, hot meal for lunch or dinner. I also think if people are fed they are happier and less stressed about money.
If you recommend others to join HandsOn Hong Kong, what are the reasons?
What I like most about HOHK is the fact that you don't have to sign up for a massive chunk of time. You can do one session every six months or a session every day. I also like the different types of sessions, everything from cooking to helping local children with homework. As a non-Cantonese speaker I like the fact there are sessions that I can take part in. And I've become a master at peeling carrots!
Any interesting stories or touching moments you have had in your volunteer work experience with HandsOn Hong Kong?
It's more of a great feeling. At the start of sessions we are faced with massive piles of lunch boxes, between 600 and 1,200, and seeing those boxes getting filled and moved out the kitchen is a good feeling. Working in the kitchens does make you sweaty but it's like a good work out, you feel happy at the end of the session.
Any other suggestions you want to share with our HandsOn Hong Kong volunteers or new subscribers?
I would say even if you just have the time for one session do it! It's a wonderful thing to do for the local community and the sessions are fun. Also if you can make friends at sessions with the others in the group, you never know what those meetings can lead to.
Be the Change. Volunteer.