Roy Tang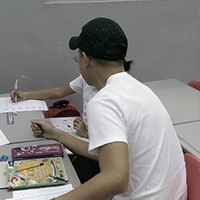 Can you introduce about yourself, and tell us what are you doing currently?
My name is Roy. I come from the financial services industry, responsible for creating and managing high-impact regional corporate partnerships.
How did you get in touch with HandsOn Hong Kong?
I have always been looking for opportunities to engage in projects and programs that build on community assets, meet community needs, and provide volunteers with a positive experience. My good friend Fion recommended HandsOn based on good experiences.
What drives you to provide volunteer service to the community?
We are all a part of our community, naturally, there is a sense of responsibility to contribute. Most people invest an immense amount of energy into building a professional career, and it would be really great if we could also prioritize in sharing back to the community of what we have learned - like a recycling system! For example, it is important to assist (underprivileged) youths in learning communication skills, team sprint and problem solving skills because these are fundamental components to succeed in many job environments.
What is the impact of your volunteer work?
Even for projects that don't appear to be "big", the fact remains every little act of kindness has a way to spark more kindness and to encourage more people/volunteers to engage in philanthropic activities, which will ultimately contribute to: Education: underprivileged population with access of quality academic help Community: encourage economic self-reliance Arts and Culture: broaden public access to the arts and exposure of artistic expression
Why would you recommend others to join HandsOn Hong Kong?
HandsOn Hong Kong provides a super-efficient platform in promoting a variety of well-managed volunteering opportunities in the community. For example, education for marginalized students and new-immigrant adults. It is essentially a one-stop shop for dedicated volunteers to pick and participate in their interested activities.
Any interesting story or touching experience with HandsOn Hong Kong?
As Volunteer Leader at an Ethnic Minority Primary Students Program, it is remarkable to work with a dynamic team of professional HandsOn Program Manager and experienced Social Worker and dedicated Volunteers; all committed to managing this program well: for example, progress evaluation of beneficiaries to ascertain enhancement and efficient allocation of resources.
Any other suggestions you want to share with our HandsOn Hong Kong volunteers or new subscribers?
Start NOW, try at least 1 activity ... it's GREAT!
Be the Change. Volunteer.