Vanessa Lee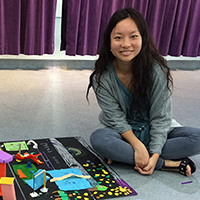 Can you introduce about yourself, and tell us what are you doing currently?
My name is Vanessa Lee, currently just finished up my freshmen year at the University of Hong Kong as a landscape architecture student.
How did you get in touch with HandsOn Hong Kong?
My encounter with the organisation first developed when I rummaged for voluntary opportunities after my high school graduation. HandsOn Hong Kong topped my list because it offers highly flexible timetable, handy online registration, and a whole host of selections to work with assorted partners, like IMC Sunday School and Bethune House.
What drives you to provide volunteer service to the community?
The programs that I have been working on recently are soap recycling, art workshops for kids and the HandsOn Hong Kong 2015 Soiree. They are all very distinctive and very interesting. Apart from understanding the needs of the society and how to work with different people, I also gained new capabilities, for example getting together with cute yet amazingly energetic kids! Meanwhile, I am constantly expanding my personal network - there is no better way to meet people and make friends with those who you might never come across had you not volunteered in the same program!
Any interesting stories or touching experiences with HandsOn Hong Kong?
The best experience from my past service is definitely the HandsOn Hong Kong 2015 Soiree. Though selling lucky draw tickets might not be everyone's top favour, but I got to know how a fundraiser works and bagged home with quite a few pointers in how to approach people, notably in sales - thanks to my brilliant, 'best sales-as-ever' partner. Serving as the external vice chairlady in the Landscape Students' Association of HKU, unavoidably I would come across circumstances where I have to organise something weighty. HandsOn 2015 Soiree definitely gave me a chill insight of how similar events work.
Why would you recommend others to join HandsOn Hong Kong?
Last words to round up my words, I think HandsOn Hong Kong is one of the heart-warming, passionate organisations that you can be inspired by. Although many of us might have busy work schedules, but taking a few hours or a day to volunteer can just make your life so meaningful. Everyone has the capability to love and share, but it would be even more powerful when we serve together with all good hearts!
Be the Change. Volunteer.