Bernie Lo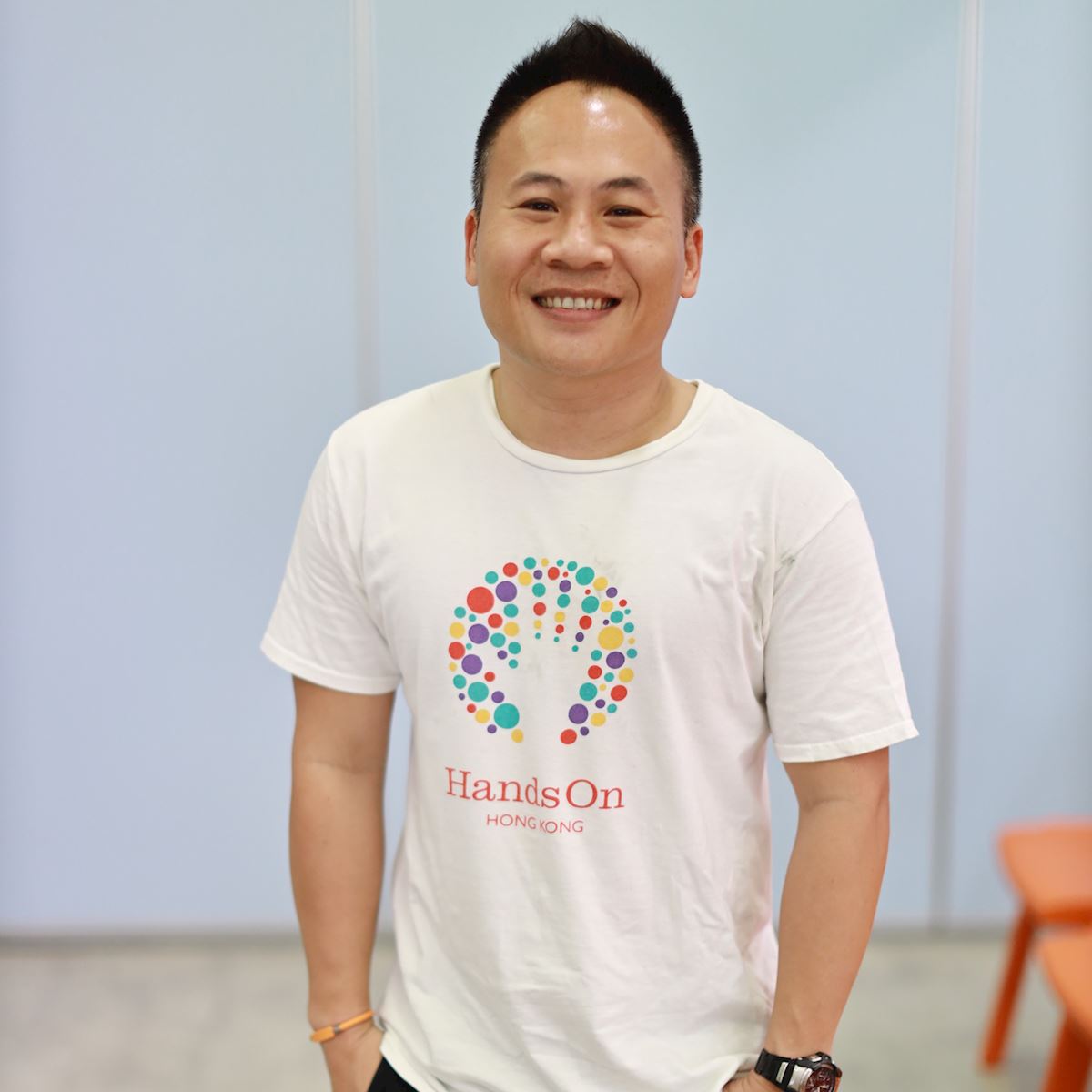 Can you introduce about yourself, and tell us what are you doing currently?
My name is Bernie Lo. My profession is an IT Consultant mainly focusing on system implementation. Currently, I've concentrated on rolling out a global SAP system for 70+ countries, roughly spending 30% of my time out of HK. Having said that, I still try my best to manage the balance between work and private life. Likewise other than supporting HandsOn volunteers work, I also act as a part time Thai Boxing / Fitness Trainer twice a week after office hours.
How did you get in touch with HandsOn Hong Kong?
I found HandsOn Hong Kong website online when I was looking for available NGOs for volunteers in HK. After browsing HandsOn Hong Kong website, I felt full of passion and I strongly believed it is the right one to support so I registered as a member right away.
What drives you to provide volunteer service to the community?
I was an Auxiliary Medical Service (AMS) Grade I officer of HK Government from 2009 to 2011. When I was an AMS member, I had a simple thought that whenever I have spare time I would like to help the needy one in person. Unfortunately there were too many unnecessary rules and policies among government divisions which didn't match with my expectation, eventually I stopped after serving few years. Beside, my job requires a lot of travel, so I couldn't meet the attendance requirement of AMS. One of the main reason I like to support HandsOn Hong Kong because it is flexible. I can support whatever volunteer programs according to my own schedule.
What is the impact of your volunteer work?
Whenever I support volunteer work, I feel great and thankful. I can understand and feel the beneficiaries' feelings, and their stories do impress me a lot. I am more certain that we, those in a good condition in life, should offer our help and giving back to the society.
Why would you recommend others to join HandsOn Hong Kong?
I always recommend others to join HandsOn Hong for couple of reasons. Firstly, if the volunteers start supporting HandsOn Hong Kong programs, we will always repeat doing that because we feel full of passion and we will met very similar character volunteers among different programs which create sense of belonging. Secondly, as I said it is totally flexible and no pressure to support HandsOn Hong Kong, we just offer to the society to make something happen and CHANGE whenever our schedule fits. Lastly, and most importantly is, all the official staff I met in HandsOn Hong Kong are very helpful and full of passion of their work which does motivate others. I also try my best to convince others in the same way when I am being volunteer leader of HandsOn Hong Kong.
Any interesting story or touching experience with HandsOn Hong Kong?
Yes, when I support different volunteer works among HandsOn Hong Kong, I came across many touching stories and I think this one is worth to share.
This one was also shared in the Foodie magazine article in December 2014 and is the story of an elderly (Wong Po Po) with a difficult condition. She is at the age of 80+ and living alone in Tuen Mun. I was shock when I first visited her flat. All space was occupied by carton boxes, plastics bags and clothes. We could barely walk within the flat. According to Wong Po Po, most of the stuff belonged to her passed-away husband, she couldn't let go and kept it for 1.5 years. Another thing hit my heart is Wong Po Po has done surgery many times and has many kind of medicine to take each day. We can recognize from her calendar, there are many remarks to remind her for doctor consultation and medicine taking time. Think about nowadays, having "drinks tea" or family meal is a very common practice to most people, however, Wong Po Po mentioned she have not experienced it for many years due to the high living costs in HK. She needs to fight to survive by grabbing recycled papers on the street to sell to collectors for say 5 dollars per kg. Fortunately, Wong Po Po is a very tough lady which we can feel from her face that even under such situation, she is still facing it bravely. From the 1 hour chatting, we found there is something we can offer to ease her life, which made me feel my visit was very rewarding. She told us she used to have a Karaoke device that she'd used to listen to some old fashion music but recently it was broken. We understood we shouldn't donate any funding to the individual, so we recorded this special case and discussed with the responsible social worker. Finally, we donated the funding to the social worker from the responsible charity, and then they bought a Karaoke device for Wong Po Po without mentioning our names. A very tiny effort from us but it can be very big impact to the others. So let's keep it up for our good works!
Be the Change. Volunteer.