Brian Kwok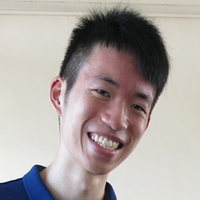 Can you introduce yourself, and tell us what are you doing currently?
I am Brian and I have been working as a trainee solicitor. I go to courts regularly to assist in defending others' interest.
How did you get in touch with HandsOn Hong Kong?
I found HandsOn Hong Kong online while I was planning to volunteer on a monthly basis back in early 2014.
What drives you to provide volunteer service to the community?
I would say it is my personal value, my purpose in life and my will to meaning that drive me to volunteer in the community. I believe in contributing to better our society and I wish to realize this personal value by spending time in volunteering. I also serve the local community because I need to remind myself what matters in life is to alleviate others' burden. And what better ways there are to achieve such purpose than to provide volunteer services to the community. I wish to live a life with meaning and volunteering allows me to do just that. Through volunteering, I earn meaning in the service itself and also meaning in the long-term friendships with the people that I regularly see.
What is the outcome of your volunteer work?
I think the major impact of volunteering is that it offers opportunities. It could be an opportunity for kids to dream about who they could be and what they could do in life. I did that at IMC Sunday School where I experienced life with kids through playing African drums, visiting Kung Fu schools and attending seminars by conservationists. It could also be an opportunity for students with intellectual disabilities to gain confidence through participating in the Special Olympics or to improve their social skills through playing with them in the weekend. Or it could be an opportunity for elderly people to interact with others through the monthly soup-delivery program in different districts. As the volunteer leader for the "Spend Your Weekend with Students with Intellectual Disabilities", I also help in offering our HandsOn Hong Kong volunteers an opportunity to give back to the society, to know more about intellectually disabled students and perhaps to meet people who are passionate about volunteering.
If you would need to recommend others to join HandsOn Hong Kong, what are the reasons?
That you can experience life through volunteering with HandsOn Hong Kong. HandsOn Hong Kong is a platform that matches "volunteering organisation" and volunteers on an event-by-event basis. And with so many "volunteering organisation" and events to offer, volunteers could really experience others' lives, such as that of the hearing-impaired, ethnic minorities and children who live in poverty. There are events that may cover a social issue that interest you. Animal rescue, waste reduction and hunger prevention are some of the examples.
Any interesting stories or touching experiences with HandsOn Hong Kong?
I once visited an elderly couple where the husband loved pasting newspaper clipping of models on the wall, the cabinet and practically every single space in the kitchen and washroom. The wife is pretty alright with that and she does the same with pretty scenery. They did share a lot about their stories and it was a joy to have experienced their life.
Any other suggestions you want to share with our HandsOn Hong Kong volunteers or new subscribers?
For new subscribers, do try out different volunteering activities. I am sure that you would find your favourite volunteering activity. For experienced volunteers, if you are tired of regular events, you can keep your eyes peeled for outings.
Be the Change. Volunteer.