Lesley Sze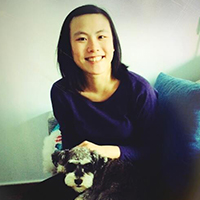 Can you introduce about yourself, and tell us what are you doing currently?
Hi! This is Lesley who is one of the VLs helping out in the "Help Ethnic Minority Primary Students with Schoolwork in Tin Hau" for Li Sing Tai Hang School & HandsOn Hong Kong since April 2015.
How did you get in touch with HandsOn Hong Kong?
I am actually taking a break after working for a few years as an associate professional in a MNC to explore the many possibilities in life while recovering my health and rebuilding my immunity. I've always been a workaholic and couldn't really tolerate the "boring" life of health recovery so I started to look for voluntary opportunities on the web and found HandsOn Hong Kong and started participating volunteer sessions mainly related to children/toddlers from the ethnic minority community in Hong Kong (i.e. in Li Sing Tai Hang School, Pathfinders and Hong Kong Justice Centre) since March 2015.
What drives you to provide volunteer service to the community?
I remember when I once wrote in my Chinese composition that "I want to be the future pillar of the society" something like that when I was studying in primary or secondary school. In fact there are lots of way to contribute, be it monetary contribution (which I can't really afford for now :P) or non-monetary ones. So whenever some volunteers on the street ask me to make a regular donation to some of the charitable organizations, I always ask them if they also provide any alternative opportunities for individuals who want to help. I was a "brownie" back in Primary school and thanks to my Primary school's "Love and Care" programme, I was able to join my other schoolmates to visit elderly homes and chit-chat with the elderly when I was P5 or P6 and I still remember the woman that I chatted with is called "Poon popo". Since then, I would look for suitable voluntary opportunities within my Primary and Secondary school network and the habit continue all the way till I graduated from the University and till now whenever I have the time and opportunity to do so.
What is the impact of your volunteer work?
I think the impact of doing volunteer work is always two-way. I do not only pass on what I know and share with the beneficiaries, the beneficiaries also share with me their positive energies and inspire me a lot through their unique way of thinking and way of facing whatever that happen in their life.
Why would you recommend others to join HandsOn Hong Kong?
I understand and still believe that most people living in Hong Kong are "very busy" with their normal routines, but the reward is always unexpectedly nice if you choose to detour a bit and give it a try. And I am sure you will be addicted and internalize the experience into parts of your "normal routines".
Any interesting story or touching experience with HandsOn Hong Kong?
After volunteering regularly on the Mondays and Tuesdays in Li Sing for almost a month, I am invited to be one of the many VLs for the service. Walking to the school and offering the homework tutorials become my Monday and Tuesday routine or even a kind of reflex that I auto-pilot myself all the way to the school and only realized that I didn't manage to be on the volunteer list (but wait list) for some of the volunteer sessions which I was not the VL for a few times. The volunteers, social workers and beneficiaries that I met so far are very nice and always inspired me unexpectedly. I always refer the beneficiaries (whether they are primary school children or toddlers) as "BB" while I share the funny encounters during the services with my other friends.
Any other suggestions you want to share with our HandsOn Hong Kong volunteers or new subscribers?
The HandsOn Hong Kong system is really user-friendly to match volunteers with the HOHK charitable partners to help contribute a little more to the different communities in need in Hong Kong. So don't hesitate to sign up and be part of the Change and help nurture more positive energy from you and around you.
Be the Change. Volunteer.