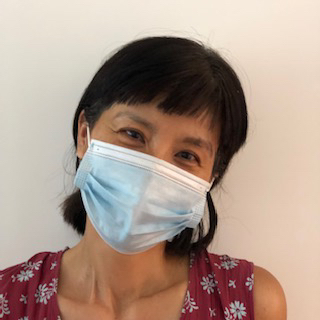 1. Can you tell us a bit about yourself and what you are doing currently?

I am a housewife and mother of two teenage children, who enjoys keeping busy with gardening, baking, and volunteering.
2. How did your volunteer journey with HandsOn Hong Kong begin?
With the onset of COVID, I have had more free time. I searched online and found several NGOs asking for volunteers. I've divided my time among them and found it enjoyable.
3. We've been inspired to see your commitment to volunteering throughout the COVID-crisis. Tell us about some of the programs you've been part of.
With HandsOn, I've been involved with delivering necessities to the elderly who have been confined to their homes. I also recycled soap for delivering to low-income families in Hong Kong and the Philippines. In addition, we have some beach cleanups in Discovery-bay and Clearwater Bay.
Recently, I join several sessions of the outreach event to domestic workers by distributing flyers, wellness items, and information packets to domestic workers in the Central and Causeway Bay districts and chatting with them. I could know more about this group and provided advice to them regarding the Covid news or their rights.
4. Can you tell us how you think community service has had an impact on you?
During the past year, I've been unable to travel and spent a lot more time at home. This became monotonous. Volunteering has helped to establish a new network of friends and colleagues. It has been rewarding to help others and face new challenges.
5. Can you share any experiences you had volunteering that was particularly memorable or moving?
I really enjoyed delivering necessities to the elderly. They were very happy to see us because many of them live alone and were keen to chat.
Be the Change. Volunteer.