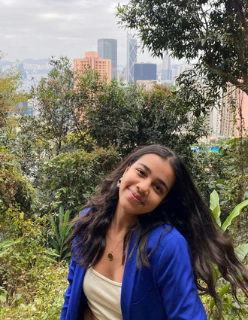 1) As we celebrate World Environment Day and World Oceans Day, can you tell us about the environment-focused Youth Empowered program you've been part of?
The youth empowered program that I have been a part of is centred around environmental protection and conservation, so far in the past year, we have organised 3 successful beach cleanups collecting over 200kg of garbage in total. Apart from the cleanups we organised 2 online events, we made new year cards for the elderly in HK out of up-cycled materials. We also gave HK's youth a chance to be a part of an amazing opportunity to take photos for Clearbot a company that is building an open-source model for trash detection.
2) How do you find that being part of this program has changed your everyday actions and the choices you make?
Being a part of this program has not only brought about a positive change in my daily life but also amongst my family and friends. When going to the supermarket we always avoid buying snacks that are individually wrapped, this might seem like a small change but every little bit counts. At home, we use energy-efficient bulbs as well as biodegradable dog waste bags. I personally have started to carry a reusable bag everywhere and now the idea of people purchasing single-use plastic torments me.
3) What words of advice would you have for young people in Hong Kong looking to begin their volunteering journey?
The future depends on us, as the youth in Hong Kong we need to make a change even if it's only a few baby steps. I would firstly advise them to volunteer in an area they are passionate about. Volunteering should bring out a spark in you it shouldn't be something that you are forced to do. Not only will this help develop your leadership and social skills but you will also have the chance to have an enjoyable experience with new friendly faces.
Be the Change. Volunteer.