HandsOn Hong Kong partners with all types of companies to collectively serve the community. Over the years, we're proud to have partnered with more than 200 companies and their passionate volunteers. Together we have built a range of meaningful service programs for their employees, clients and our frontline charity partners. Here are a few examples of what we do together.
Schroders - Outing with Elderly Citizens
Volunteers from Schroders enjoyed a lovely morning accompanying a group of elderly citizens on a visit to the historical Jao Tsung-I Academy (JTIA) — one of the first projects under the Hong Kong Government's Revitalizing Historic Buildings through Partnership Scheme. Everyone participated in a guided cultural tour to explore the facilities and enjoyed lunch together. Volunteers chatted with the elderly and assisted them throughout the visit, providing encouragement and showing care. This was a wonderful way for the elderly participants to feel socially connected to their wider community. A meaningful and memorable experience for all!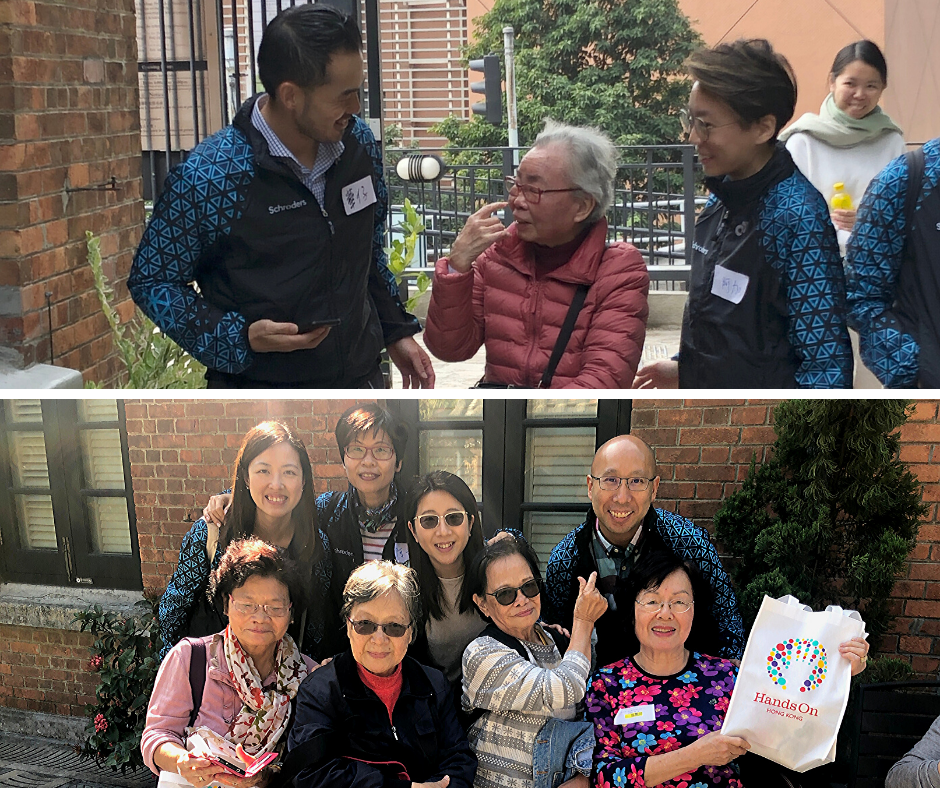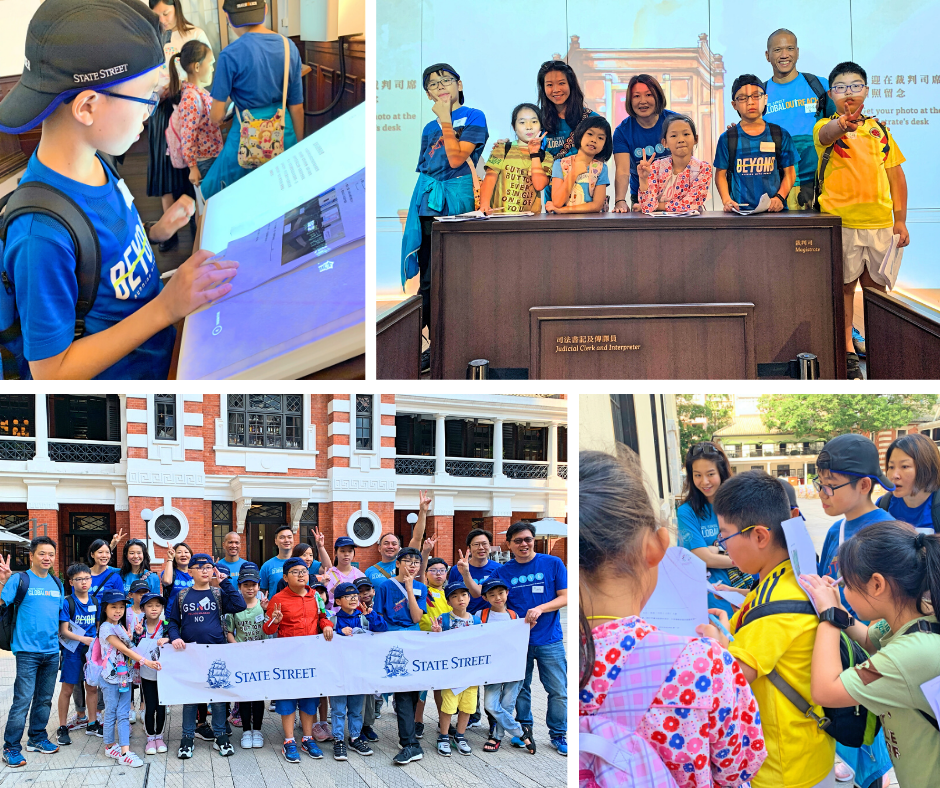 State Street - Tai Kwun Historic Visit
Super enthusiastic volunteers from State Street Corporation spent a fun day visiting the Tai Kwun site in Central with students from underprivileged backgrounds. Volunteers were very HandsOn – engaging with the students and answering questions about the history of Hong Kong and the historic value of this site. The educational visit was followed by lunch where everyone enjoyed getting to know each other, broadening their horizons and sharing experiences! A wonderful day out for all!
KPMG - Food Rescue and Elderly Banquet
Volunteers from KPMG spent a fun afternoon preparing a delicious meal for underprivileged elderly using nutritious recycled ingredients and fresh vegetables from the market. They then served the food to the elderly and played games with them throughout the meal. This activity enhanced awareness about reducing food waste and provided a wonderful opportunity for volunteers to show care to elderly citizens in need. A great way to give back to the community!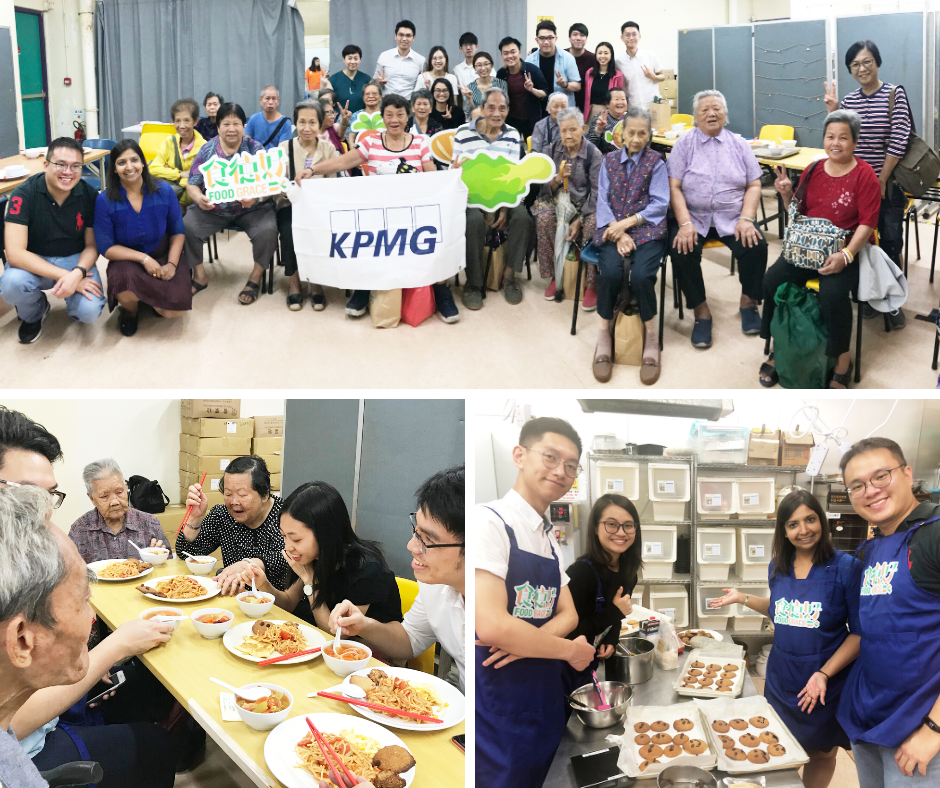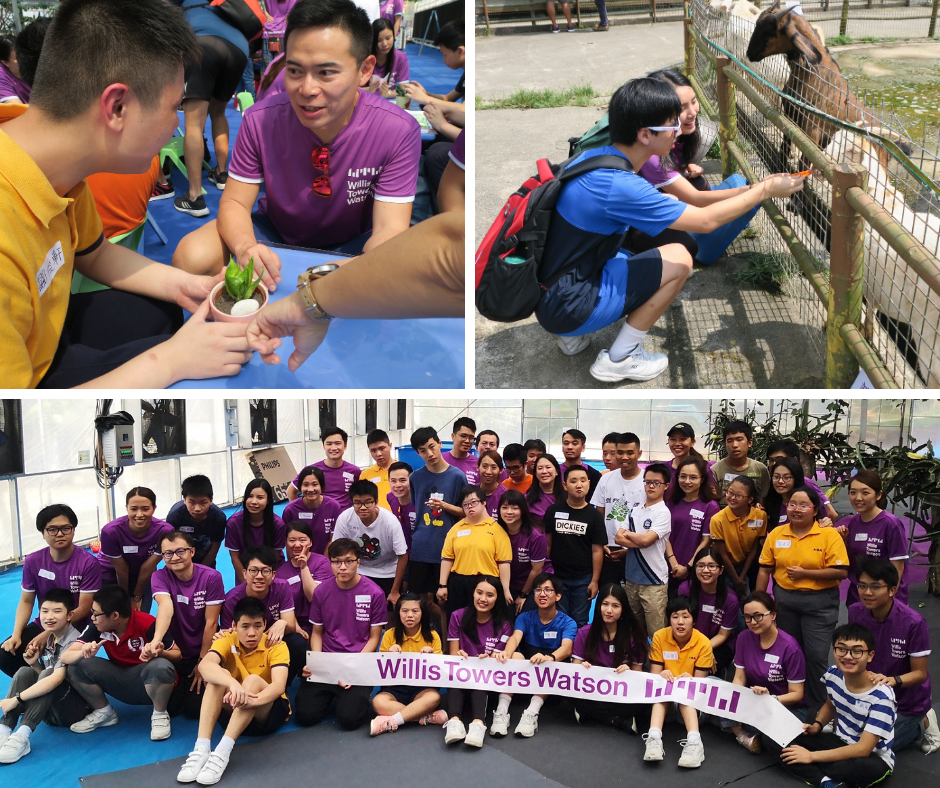 Willis Towers Watson - Organic Farming Activity
Volunteers from Willis Towers Watson spent time experiencing organic farming with students with disabilities. Volunteers accompanied students on a farm tour and assisted them with activities such as planting crops and feeding animals including sheep, rabbits and fish. This program provided an opportunity for volunteers to interact with the students and help them develop their interpersonal skills. And everyone learned about the importance of sustainability and environmental protection. BIG thanks to the dedicated volunteers for their #handson work with students at the farm!
Harbourvest Partners - Bowling Activity
Enthusiastic volunteers from Harbourvest Partners spent a fun-filled day bowling with students, empowering them to engage in the sport and using the opportunity to enhance their English language skills. This activity helped the students to build confidence, broaden their exposure and challenged them to try new things. It was a wonderful learning experience with lots of smiles all around. HUGE thanks to the volunteers for their energy and commitment. A wonderful way to give back to our community!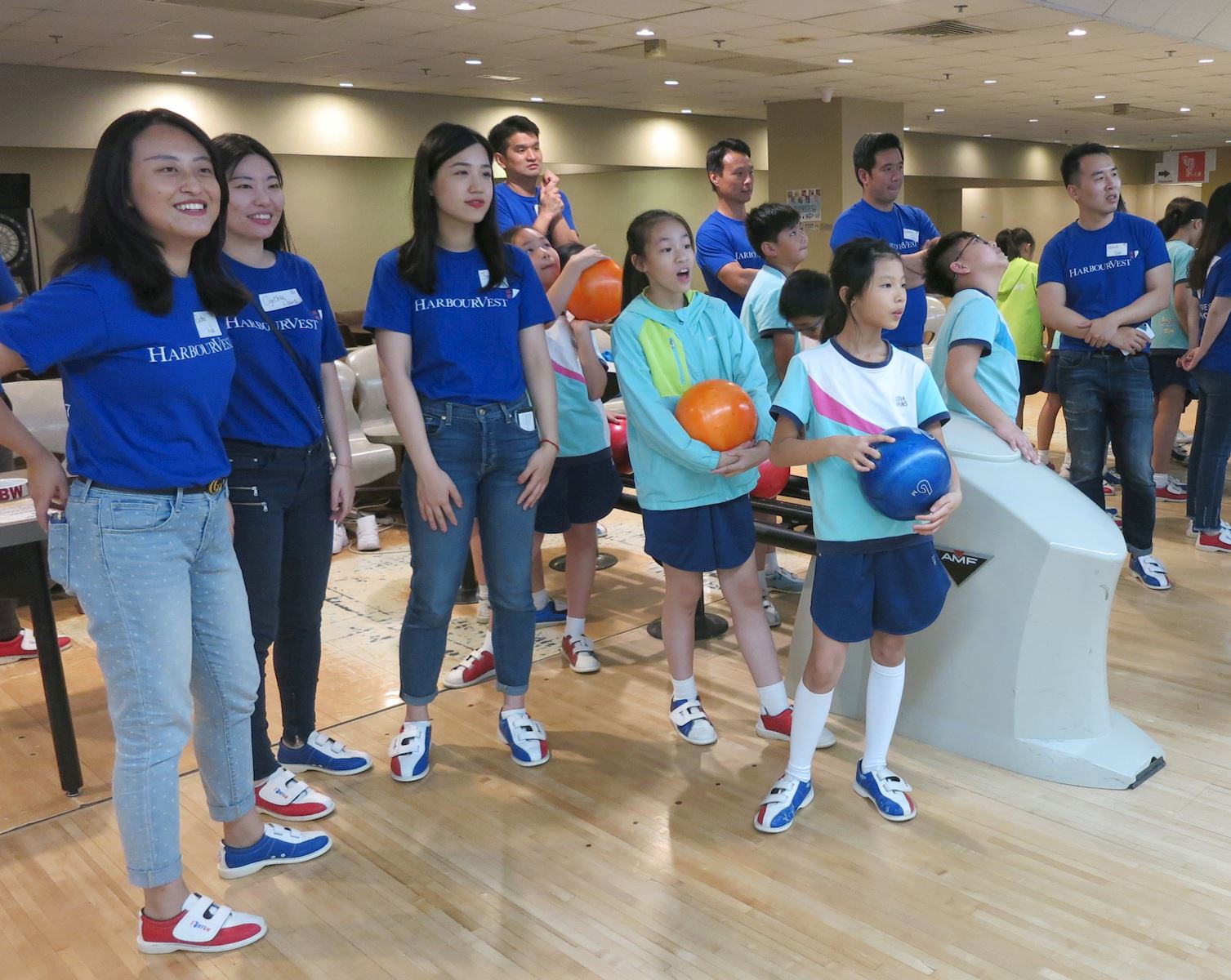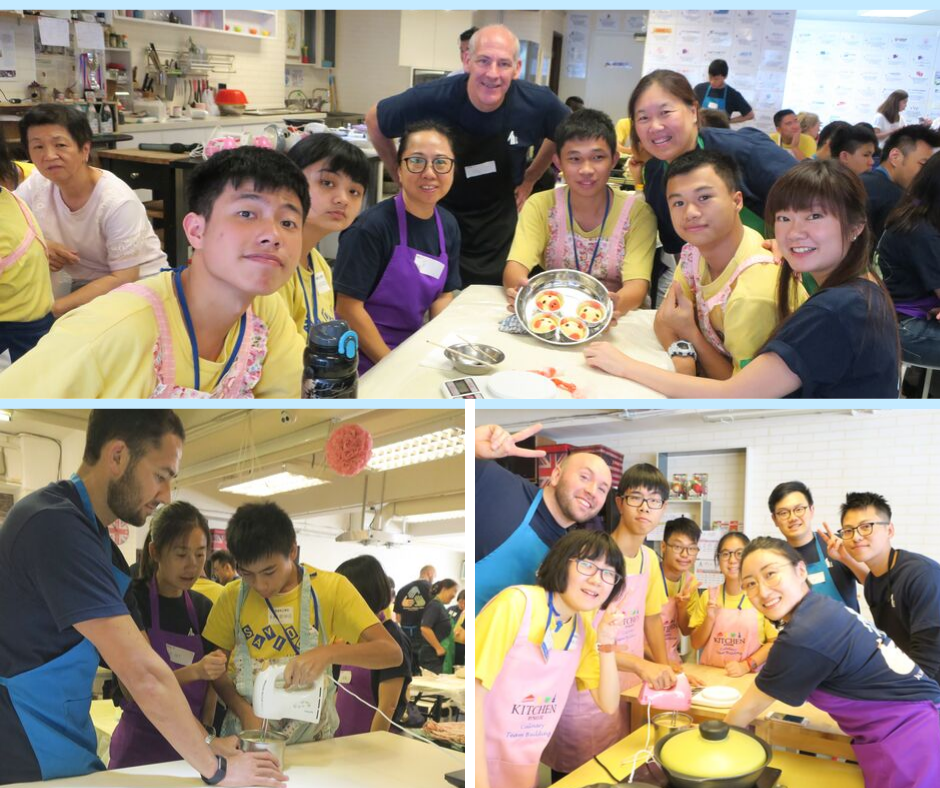 Alvarez & Marsal - Cooking Workshop
Dedicated volunteers from Alvarez & Marsal spent a fun morning cooking with 39 students with intellectual disabilities. Volunteers assisted students in the making of delicious steamed cakes and both groups were able to spend time getting to know each other over the workshop and lunch. Once ready, students tasted their cakes and were excited to take their final products home to share with their families. This program was a wonderful opportunity for students to develop their interest in cooking and strengthen their self care and interpersonal skills. BIG thanks to all the volunteers – what a wonderful way to give back!
The American Club - Arts and Crafts Upcycling Program
Families from The American Club Hong Kong hosted local residents from the Ho Kwok Pui Chun Social Centre for the Elderly for a morning of up-cycling arts and crafts. Recycled glass and plastic bottles were turned into jellyfish and mosaic lamps for both the elderly and children to take home - just in time for a lantern festival! Big thanks to The American Club for their commitment to sustainability and educating young members!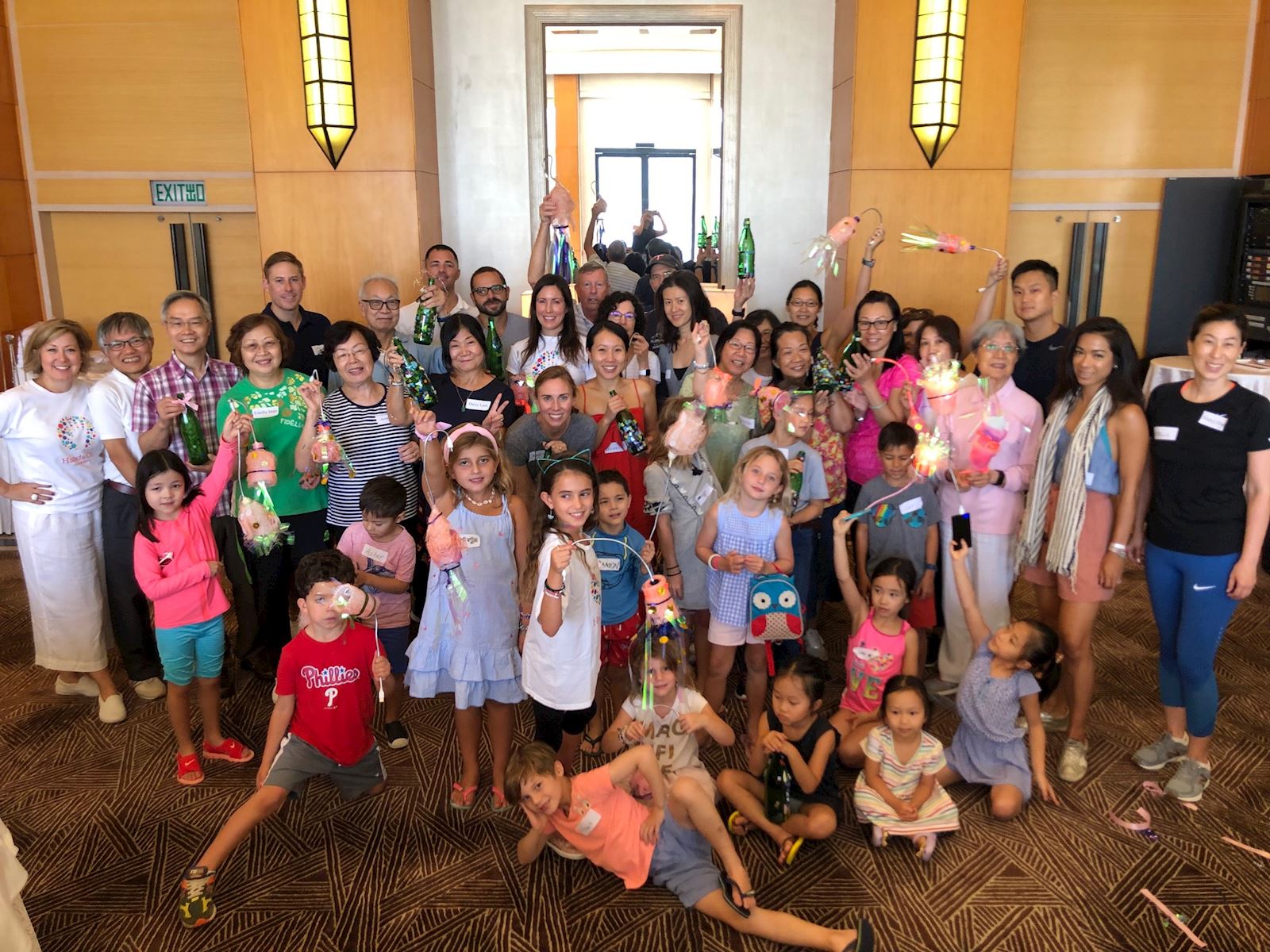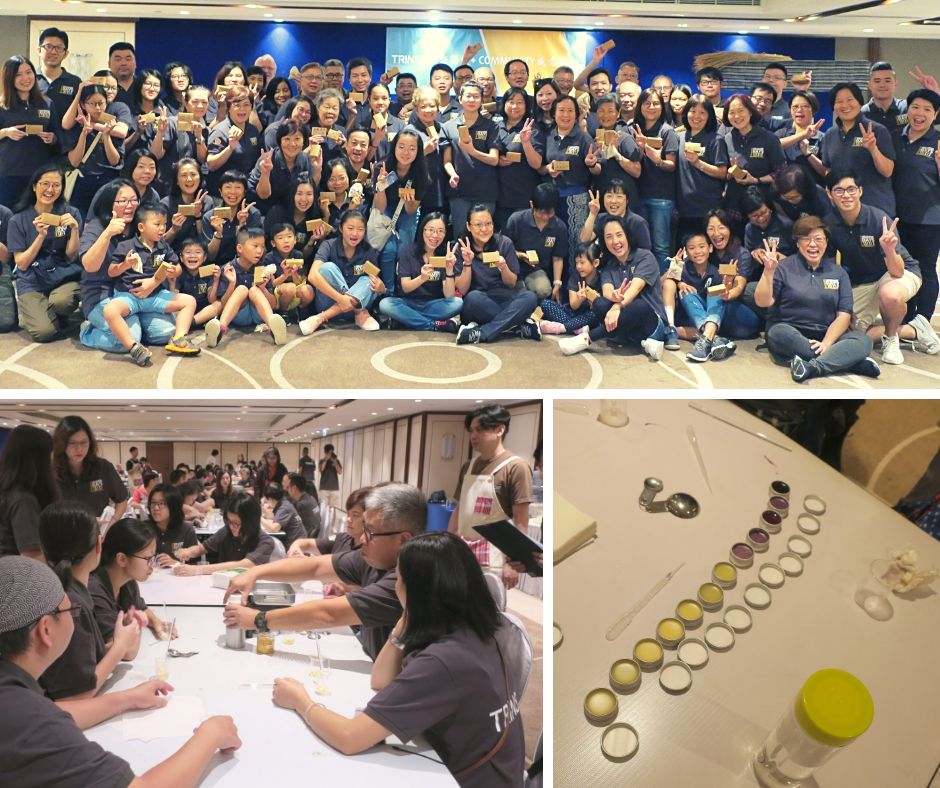 Trinseo - Eco-friendly Workshop
Volunteers from Trinseo participated in an eco-friendly workshop where they made mosquito balm and aroma sachets using dry herbs and other natural materials. They worked together to make over 200 packets of balm to be donated to an elderly center in our community. As part of the experience, everyone learned about the benefits of natural ingredients and gained a better understanding of responsible consumption. Some individuals even wrote cheques for the centre to help improve services for the elderly. A BIG thank you to all the volunteers for their contribution!
BlackRock - Textile Upcycling Program
BlackRock volunteers spent a productive day upcycling unwanted t-shirts into beautiful potholders. Volunteers were surprised at how quickly they were able to learn how to transform fabrics - that would have otherwise ended up in landfills - into quality products for daily use. Their wonderful creations using an array of colours, patterns and shapes were then given as gifts to elderly citizens in our community. Thank you to all the volunteers for their contribution. What a fantastic way to help our environment and show care to those in need!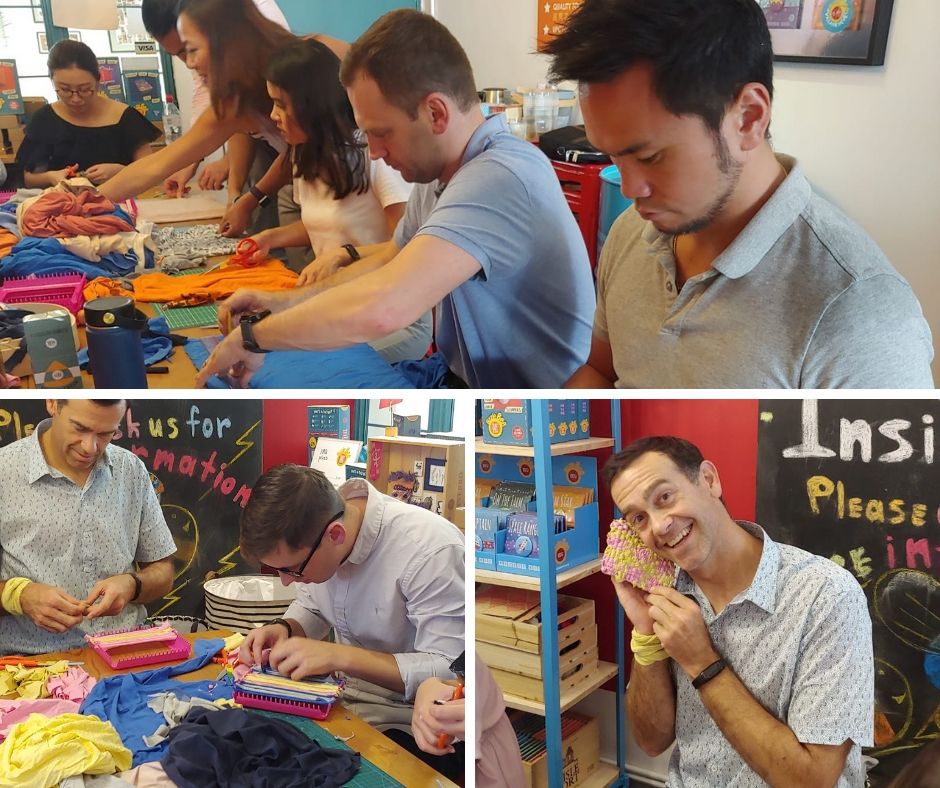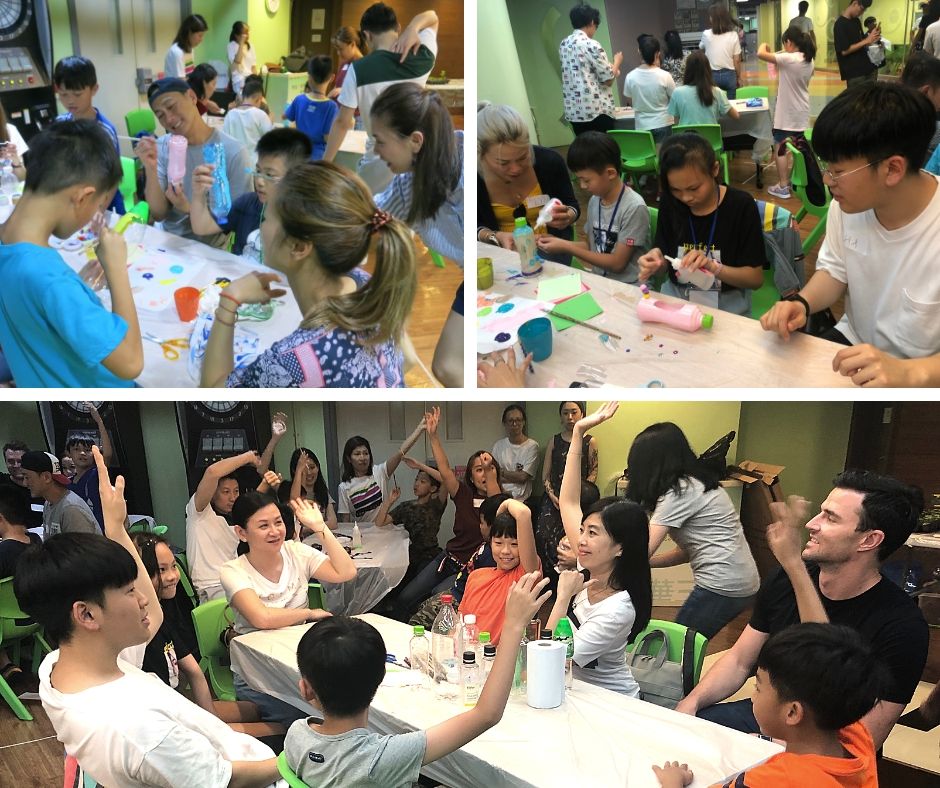 PVH - Plastic Upcycling Workshop
Enthusiastic volunteers from PVH spent a fun-filled afternoon working on a creative upcycling activity with children from low income families. Together the volunteers and their young buddies transformed plastic bottles, which would have otherwise ended up in landfills, into beautifully decorated potted plants. Everyone learned about the importance of protecting our precious planet and PVH volunteers were able to get to know the children and gain insight into some of the challenges they face. Thank you to all the volunteers for their support!
Telstra STEM Tech Fun Day
Telstra Hong Kong recently held a STEM Tech Fun Day in their office for students from the Sam Shui Native Association Huen King Wing School. Primary school students attended the Tech Fun Day and had the opportunity to experience how engineering, coding and computing can be learnt as a modern language. All the STEM tools that were used on the day, including 65 Chromebooks purchased by Telstra, were donated to the school to support the development of their STEM Curriculum. Thank you to Telstra for their incredible generosity and to all the volunteers for sharing their expertise to encourage a brighter future for children in our community.
L'Oréal Citizen Day 2019
Volunteers from L'Oréal engaged in a total of 13 activities as part of their 2019 L'Oréal Citizen Day. The programs involved preparing care packs and conducting home visits for elderly citizens, sorting donated books, appliances and clothing for redistribution to the underprivileged through the Crossroads Foundation, rolling up their sleeves for a clean up at Shek O Beach and joining community kitchens to pack meal boxes and serve food to the needy with Food Angel. A fantastic way to give back to the community!
Aon - 2019 Annual Party Community Day
Aon Hong Kong once again partnered with HandsOn to host an annual party featuring a company-wide volunteer event. 377 Aon volunteers put their heart and soul into working with students across 15 different activities including, collaborative games, educational eco-friendly workshops and arts & crafts. This allowed 415 underprivileged students to enjoy a very special afternoon of hands on English learning through a series of enriching activities. Thank you to all the volunteers for their enthusiasm in giving back to the community!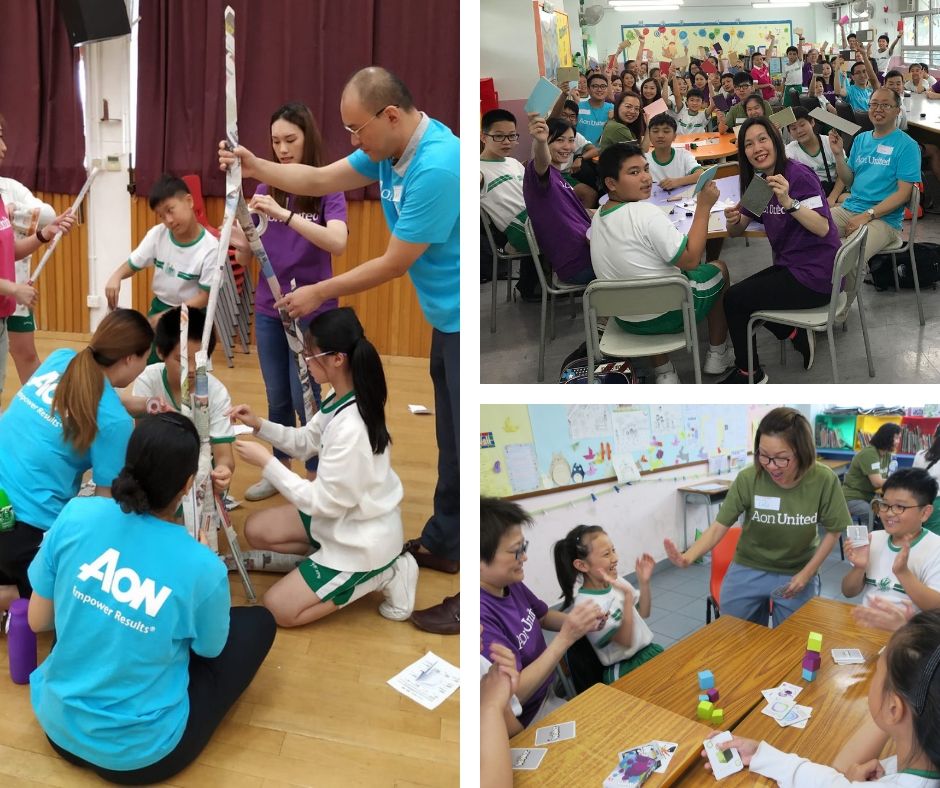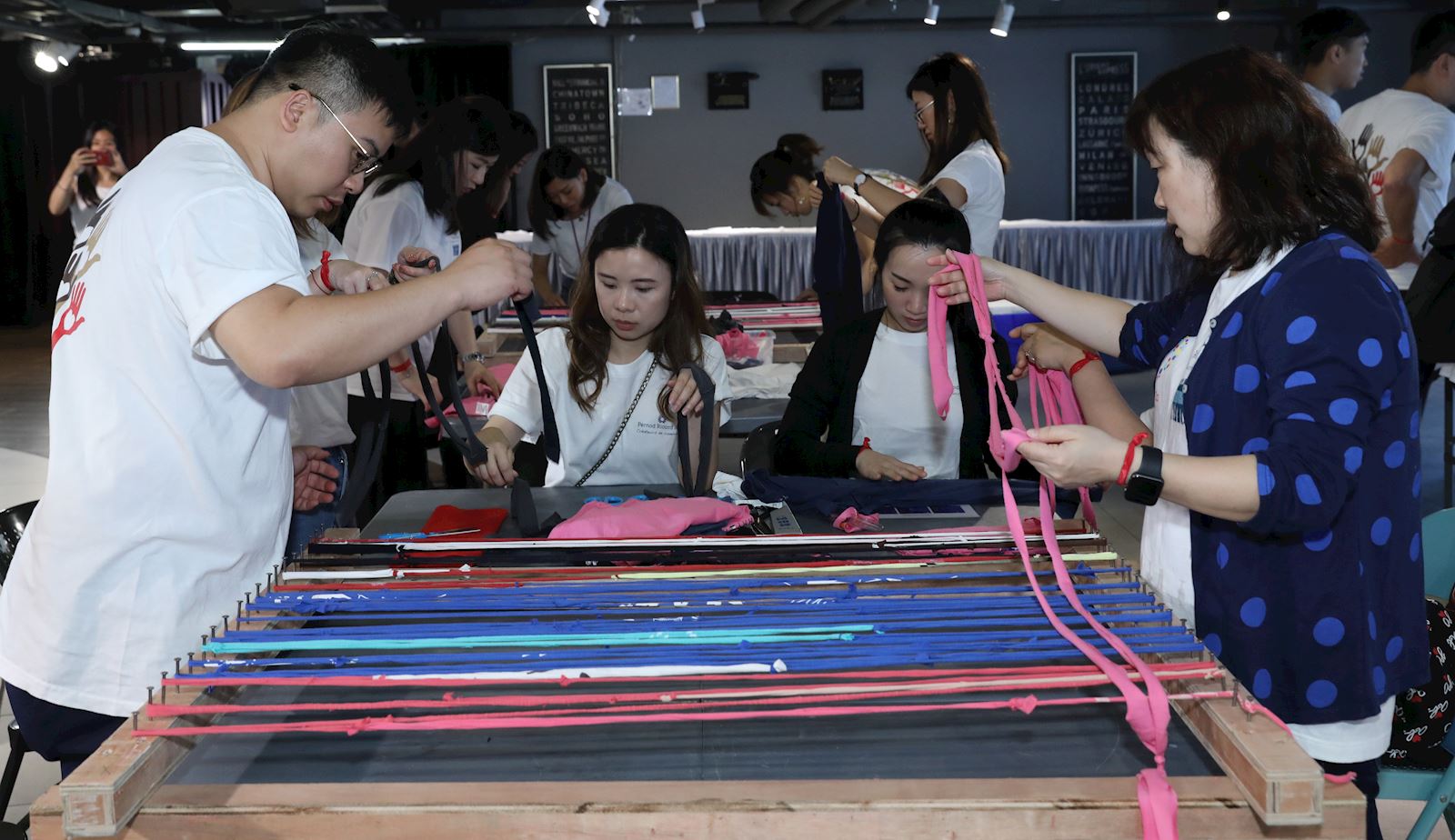 Pernod Ricard - Upcycling Program
Volunteers from Pernod Ricard rolled up their sleeves to give Hong Kong's discarded textiles and glassware a second life. 180 enthusiastic volunteers spent a total of 360 service hours producing 5 kindness mats, 50 potholders, 12 bath mats and 27 glass lamps to be donated to the homeless, elderly and underprivileged individuals in Hong Kong. This experience highlighted the seriousness of Hong Kong's household and commercial waste problem and inspired volunteers to think of innovative ways to conserve resources in their daily lives.
Serve-a-thon 2019
Hong Kong's business community recently came together in support of the local community when 29 corporate teams headed out to serve during Serve-a-thon. Program highlights included volunteers from Johnson & Johnson Family of Companies supporting children from families undergoing psychiatric rehabilitation and guiding low-income individuals during eye examinations; while volunteers from Marriott Bonvoy collected, assembled and delivered necessity items for isolated elderly and students with disabilities; and team Prudential accompanied a group of elderly to visit the Xiqu Centre, spending quality time together during a guided tour. Thank you to all the teams that gave their time during our community service week!